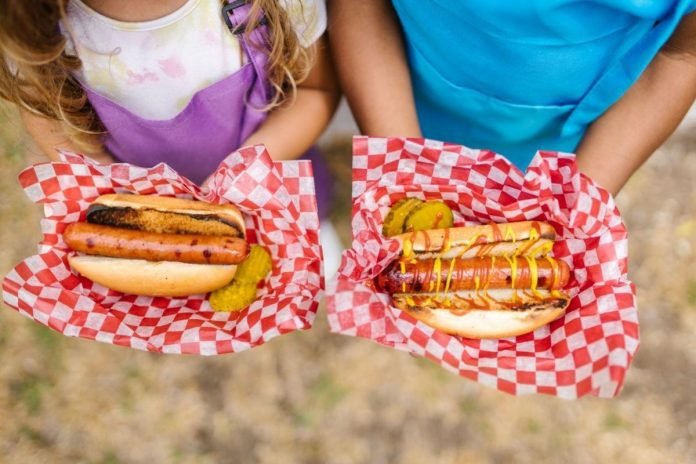 Last Updated on August 6, 2023 by
Have you agreed to throw your child a birthday party and now have no idea what to cook or serve?
If you are like most parents chances are you want to keep your kids happy and give them amazing memories especially when it comes to their birthday party.
You may also want to show off to other mums and make sure your child's birthday party outdoes all the others.
Either way, these birthday party food ideas are sure to impress both children and adults. Better yet, they are delicious, affordable and nostalgic.
Below are six must-have foods at a kid's birthday party.
Hot Dogs
The cake is usually the focus of a child's birthday party. However, one should not forget about the importance of hot food for a big celebration.
Hot dogs are a great addition to a kid's birthday party, they are easy to prepare, affordable and always a hit.
Honey Joys
With the sweet taste of honey combined with the crunch of Kellogg's Corn Flakes, honey joys are another delicious birthday party treat that's simple to make and super affordable.
All you need to make honey joys are:
1-2 tablespoons of your favourite honey
4 cups of Kellogg's® Corn Flakes
90g of butter (margarine will also work)
1/3 cup of caster sugar
Fairy Bread
Also an appropriate snack to serve at an adult's party, Christmas, your wedding and almost all occasions, fairy bread is a delicious birthday party staple.
Mini Burgers & Sausage Sizzle
In Australia, there is no denying we like a good barbecue.
While the kids might not be interested in the lamp chops or grilled vegetables, they will probably devoir a mini burger or sausage sizzle.
A barbecue is also ideal if you will be entertaining both parents and kids at your child's birthday party. A barbecue is easy to prepare and can easily feed the masses.
Chocolate Spiders
A delicious and nostalgic birthday party food. You probably had a chocolate spider or two as a kid and they are just as good as ever.
Better yet, they are easy to make and you don't even need the oven to make them.
Chocolate spider ingredients:
100g dried fried noodles
2tbs crunchy peanut butter (can leave out)
200g of baking chocolate
Method:
Line two baking trays with baking paper and set them to the side
Combine the peanut butter and chocolate in a microwavable bowl and microwave in 20-second bursts to avoid burning.
Stir regularly and microwave until everything is combined and melted.
Stir in the dry noodles and ensure everything is coated evenly
Using a spoon, divide the mixture onto the trays and refrigerate until set.
Party Pies
It is in the name so you know party pies are a must-have at a birthday party!
Perfect bite-sized snacks for bite-sized humans, party pies are a great birthday party food.
If you're planning a kid's birthday party, consider these must have foods for your kid's birthday party. These are some foods that kids and adults absolutely love and are sure to impress all. They are not just delicious, but they are also fun to eat and may bring back some nostalgic memories from your birthday parties.
Apart from that, if you are interested to know about Easy Main Dish Recipes For A Dinner Party then visit Food category.