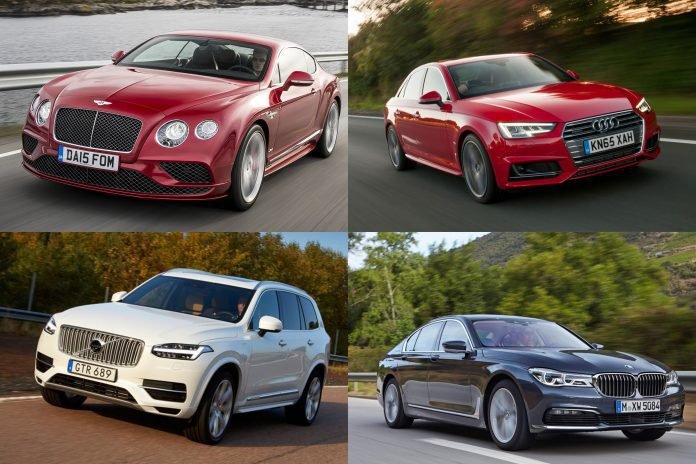 Last Updated on February 25, 2023 by
A new year means a lot of new things. You're a year older and a year smarter. There's a lot to anticipate in your life, work, and the world as a whole.
Then, you're excited about your interests. What new will come out this year – movies, music, gadgets, and cars.
If you're an automobile lover, the temptation to learn about every detail of the wheels that will come out in the new year is simply overwhelming.
From rims to engine and stereo to leather seats, you want to know everything about every feature and how these new features will blow your mind. And honestly, car manufacturers don't disappoint. They rival each other and resultantly, we get cars that have everything we could imagine, and even more.
This blog will talk about five car brands that really slew this year with their latest models and expanded our scope of imagination about what a car can be.
Genesis
We are starting with a lesser-known car brand that isn't at our fingertips regarding naming the luxury car manufacturers. But 2021 has been a year of reckoning for Genesis, and it has done considerably well to stand amongst the BMWs, Audis, and Porsches.
Genesis is a luxury vehicle division of South Korean automobile manufacturer Hyundai. A shade of Bentley in both the logo and car's body, Genesis with its latest car has been prosperous in creating ripples. Knock Knock! Genesis is here.
The 2021 Genesis G80 is a lavish, mid-size Sedan. Forbes called it "one of the year's best and most significant new cars.Prior to G80, Genesis's collection of cars included G70, G90, GV 70, GV80, and all-electric G80.
Audi
Audi's mention in the list of most exotic cars of the year is by default. It is a name associated with luxury, comfort, and innovation. Every year, their cars stand out among their competitors due to their sleek style and high-tech features.
This year too, Audi continued with its glorious trend of releasing very hard-to-match cars in both luxury and technology. But the 2021 Audi SQ7 is really the jewel of Audi's crown.
It is worth every dollar of the $85,000 price tag it comes with. With a 500 hp engine, it goes from 0-60 mph in 4.3 seconds.
This 7-seater luxury sedan comes with all-wheel steering to make driving smoother. You can customize the ride by selecting one of the six driving modes. Based on your terrain, you can set the drive and enjoy the comfort of this plush vehicle.
Lamborghini
Every year I have a ritual: lookup for the latest Lamborghini model and then search "how much is a Lamborghini."
If a man tells you he has never dreamt of owning a Lambo, he is either straight-up lying or has deplorable taste in cars.
I mean, look at Lambos. How can you see one of them and not go: "Gosh! I wish I have one of those."
Lamborghini is a name synonymous with luxury. Their exotic sportscars are a sight to behold and a machine to marvel at.
In 2021, Lamborghini's Aventador SVJ Roadster came out, and like every other Lambo model, it made people's jaws drop.
These cars look like a car straight out of Transformers, and it looks like that with one bang on the road, they will transform into robots. But they don't! We checked.
The Aventador SVJ Roadster is a car for future generations; that's why the new technology is used in its engine is something that no one has ever tried. It comes with an extensive ALA 2.0 system that ensures minimal drag while driving straight and good aerodynamics while turning.
It has a 770 hp naturally aspirated V12 engine whose sound you will fall in love with again and again.
Porsche
Like we said at the beginning of this blog, with every car, the manufacturers expand our imagination of what a car could be and what features it can have.
Porsche 911 Carrera is the type of car having a balance between comfort, technology, and luxury. This car ranks very high among the best luxury cars of the year.
The reasons are there for everyone to see.
Porsche cars are known for their powerful engines and smooth drive. That's why the company has added variants with 572-horsepower Turbo and 640-horsepower Turbo.
The Targa body style has been reintroduced, which is a partial convertible body style. Porsche has just eked out its competitor Chevrolet Corvette by adding more safety features for both adults and kids.
Mercedes
Mercedes is a brand that combines luxury with sophistication. It covers the aspirations of those who want a luxury sports car in their garage along with a smooth high-end drive.
Every year, Mercedes cars are compared with the rivals; Audi and BMW. While all three have a class of their own, Mercedes holds its ground by its nifty mix of class and technology.
2021 has been a good year for Mercedes. It released cars in Coupe, Sedan, Convertible/Roadster, SUV, Hybrid/Electric, and Future/Concept line up. These cars earned high ratings, and the reviews by both customers and experts are excellent.
So, in this league of exotic cars that Mercedes released this year, it is hard for one to stand out, but if we don't talk about the C-Class Coupe, I won't feel right. The car came out in two variants, the 2021 C 30 Coupe and the 2021 C 300 4MATIC Coupe.
With its compact body, polished look, and detailed interior, the car has kept the basic peculiarities of a typical Mercedes while innovating its features and technology.
The steering is fitted with two pads that feel like a smartphone to give as much control to your hands as possible. The 4-seater car has a twin-scroll turbo engine with 255 hp and 273 lb-ft of torque. In simpler words, the engine has combined power with efficiency.
With increased traction in wheels, it is safer on wet roads and gives a relatively smooth drive in the winter season.
The car has five driving modes to provide you with more comfort. Even best, you can create your own mode by setting shift points, throttle, steering, and gears.
With its 10.25″ display screen, it gives a complete sense of control to the driver. From here, the drivers can adjust audio, set vehicle settings, and adjust cabin features.
Final Words
Every year we get excited about cars, and every year our excitement gets rewarded with more high-end wheels. The companies are constantly innovating to come out with more futuristic cars. And amid this competition, we customers and car lovers are relishing it.