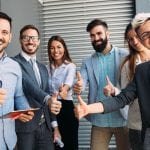 Last Updated on August 18, 2023 by
You craft a compensation plan with a lot of thought as well as the goal of growing your company to the next level. However, it doesn't harvest the results that you had anticipated.
Does this ring a bell? Then you'd be aware of the sequence of events that occurs. Your compensation package shifts as your sales strategy shifts. Above all, your salespeople with such strategies and compensation plans might not be happy with it. Generally, it's been noticed that sales commission software keeps the sales team very pleased.
So, how do you get your groups to adjust to the new normal while minimizing conflict?
Entail your teams early on in the process
Compensation plans change for a variety of reasons at any given time. This is why, in order to prevent additional conflict, bringing your teams into the mix is critical.
This way, they'll be aware of all changes to the compensation plan and won't be caught off guard, which will only increase their confidence. The more your teams are involved, the stronger the plan will be implemented.
Let's take a look at an example. You involve a sales manager in the creation of a new compensation plan. The stack of customer data and his team can be crucial. As a result, the reps will understand that the changes to the compensation plan are made in the best interests of the entire team.
Formulate a Communication Plan
Now it's time to communicate your plans with your reps, which is an important step in the process. Maintain open lines of communication with them and keep them informed of any changes to the plan.
Brownie points if you can explain it in simple words so that your salespeople don't get confused when they see the changes. Furthermore, you can send personal messages to reps in various pay ranges, which will help them understand the plan better. A sales commission software tracks all commission performance of every sales representative. Make sure you're sympathetic to reps, that you're prepared to answer all of their questions, and that you're moving the process forward with everyone on the same page.
Let reps know why the change was made
You wouldn't change the compensation plan haphazardly. It could be due to the addition of new product features, budget changes, or another compelling reason to change the plan. Whichever the reason, make sure your reps are aware of it. Talk to them about the key metrics that will determine their incentives.
about quota-achievement compensation, and so on.
For example, in the new plan, you've made upselling a goal for your reps, and they'll get paid every time they upsell a new product feature to a client.
Constantly evaluate the results
Your new strategy won't be infallible. There may be errors in it that you won't notice until after you've implemented it. Collaborate with your reps to get their feedback on the plan's efficiency as well as any flaws.
Retaining your lines of communication open to feedback encourages rep involvement while also involving them in the procedure.
Conclusion
Following the above shared 4 ways, communicating compensation plans plays an important role in keeping your reps motivated and focused. To keep all the records on track you need sales commission software and for that ElevateHQ is  a leading compensation management software that can integrate with any CRM software and allows you to track and improve your commission plan performance.
Read more: Is .Net Development a Right Choice for your Business Enterprise?