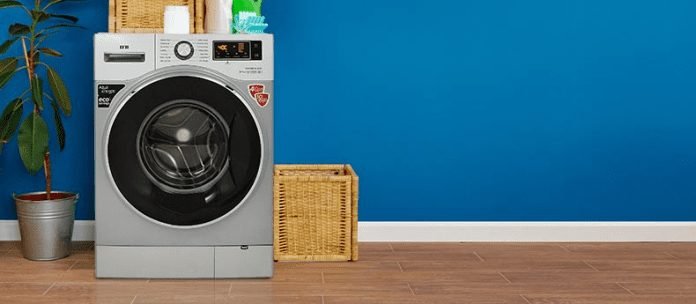 Washing machines are found in almost every other Indian household. They are handy, convenient, and can greatly reduce the time required to wash and dry your clothes. The fully automatic washing machines are able to soak, wash and dry clothes without manual commands. These features have made washing machines extremely essential in Indian households. Latest washing machine technologies have allowed users to wash clothes using separate preset settings. The delicate fabrics can be washed at gentle speeds to retain their integrity. On the other hand durable clothes can sustain a thorough wash to get rid of persistent stains.
IFB washing machines are extremely popular in the Indian market. IFB has been one of the major brands with considerably large annual sales. IFB's fully automatic front load washing machines is one of the best Indian washing machine. Other than washing machines, IFB has a constant demand in the Indian market for other appliances as well. The technology IFB uses to design it's washing machines are one of the reasons why IFB has become so popular in the Indian market. For its front load and top load washing machines, IFB uses the latest technologies like:
Aqua Energie is a feature added to the IFB washing machines in the very recent days. This technology involves water softeners which breaks down bicarbonates present in water. Bicarbonates have a tendency to stick to the laundry surface and interfere with the process of the detergents. When broken down, bicarbonates turn to microscopic particles. This process results in a better wash and uniform detergent action. With the Aqua Energie feature in your washing machine, your clothes no longer contains detergent traces after washes.
4D Wash Technology with Water Jets
4D Wash Technology completely revolutionized the way our washing machines work. Any premium IFB front load Washing machine incorporates this feature. This technology contains 4 nozzles with water jets used to fill water in the washing unit. The dynamic water action of the jet sprays help in a cleaner and fresher wash. The drum also rotates 360° while water is filled. This ensures the laundry to soak water more effectively, and absorb detergents readily. While washing, the 4D washing technology allows water to penetrate the clothes and remove any traces of detergent left behind.
Air Bubble Wash is a nifty addition to the latest IFB washing machine models that help them stand out from other brands or models. This intelligent technology washes clothes using air bubbles instead of just foam and water. During the washing process, the washing machine produces higher amounts of air bubbles, which help the action of detergents. With air bubbles, the detergents can easily penetrate the laundry, making it easier to remove persistent stains. Air bubbles are fragrant and can result into fresher laundry washing.
The air bubble technology is a better way of cleaning your laundry than using excessive detergent foam, which can stick to cloth surface and prevent uniform detergent action. They can also cause your washing machine to overwork and might strain the washing machine impeller to pump out water. Too much foam can also reduce friction which affects the washing process. The Foam Control in IFB washing machines prevent excessive foam building up inside the washing drum. Excessive foam can be a result of extra detergent used in the washing machine than necessary. Extra detergent can also clog the washing machine drainage unit, which might require professional attention. Foam Control Systems prevent such occurances. A sensor present in the washing machine pumps in more water to dilute and balance out the detergent in the washing machine. This greatly reduces the foam created, and the washing machine can now resume its normal wash time. This feature might require some extra time to complete washing as it adjusts to the amount of detergent used.
To match the smart technologies used by the IFB washing machines, they now come with a touch Control Panel. This is extremely convenient for modern users because it is easy to use. It uses a sleek interface and you can get your washing machine running with a few taps. The control panel has several wash programs dedicated to different washing presets. You can easily choose from the presets on the LCD screen or adjust washing settings as required by your laundry.
Other than the smart features mentioned above IFB washing machines are equipped with other features that give them an edge in the washing. The Cradle wash feature is used for clothing of delicate material like silk, laces or satin, which require a gentle cleaning. The Cradle wash feature does not wash the clothes vigorously to damage the clothing fibres. The ball valve technology increases water efficiency. The Cresent Moon Drum allows better washing and greater area for washing movements. Other features like the drum lamp, hygiene Plus feature, repeat wash program, pet hair and lint removal, steam wash are excellent features that help IFB washing machines wash your clothes readily and efficiently, without consuming too much water or energy during the process.
If you are planning on purchasing an IFB washing machine, you can avail these features and more on IFB washing machine models like Senator Aqua SX Fully Automatic 8kg washing machine, IFB Elite Aqua SX Fully Automatic 7kg Washing Machine and the 7.5kg TL-SSDR Aqua IFB Washing Machine. You can visit Bajaj Finserv EMI Store to buy the latest IFB washing machines at the best prices, discounts, and EMI offers. Plus, EMI Network Card holders are entitled to multiple pre-approved offers like credit cards, personal loans, and business loans from Bajaj Finserv.