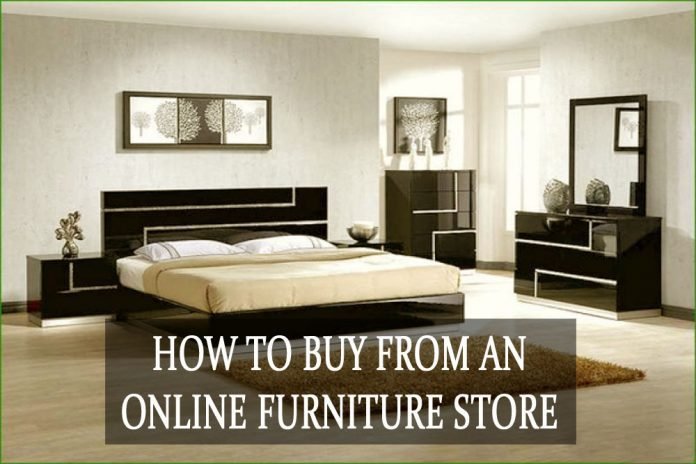 Last Updated on August 16, 2023 by asifa
Decorating your home with items purchased online from an online furniture store is a terrific way to save money. However, many of us are wary of purchasing furniture online since it appears to be too hazardous. How can you be sure that what you're seeing is what you're getting? How can you be sure the price will work in your home if you haven't seen it before?
This essay is for you if you've ever asked yourself similar questions. Read carefully for the next time you're ready to change your interior. So here are some tips for buying furniture online to help you make wise choices.
1. Get details of an online furniture store
2. Check out the reviews
3. Take precautions
4. Choose the right color
5. Compare rates/prices
6. Find the best deals
7. Look for shipping options
8. Buy on secure sites
Get details of online furniture store:
When planning to buy furniture online, it is important to know all the ins and outs of the business in question. You can also learn about their creation and their general conditions.
Reading this page can be a bit boring, but you can't afford to know the company you're about to buy from.
Check out the reviews:
You will find customer reviews on almost every online furniture store with all products. Most websites allow their users to provide feedback on products and services. You can then check out these reviews before adding the product to your cart. Furthermore, many sites also allow users to give ratings for their services. Choose the best-rated products to decorate your home.
Take precautions:
Even when you plan to buy furniture online, you need to have accurate measurements, just like when shopping in stores. For example, if you plan to bring a set of sofas, you must measure the area where you will place them. This will help you get the correct room size for your home.
Therefore, just like you take measurements when visiting physical stores, you should do the same when visiting an online store.
Choose the right color:
Most websites have several furniture photos to help customers choose the right furniture. To fix this, you can read the color reviews provided for that particular product. However, the color may be lighter or darker when the product is finally delivered.
Compare rates/prices:
Today, you will find various furniture stores offering furniture with different styles, designs, and patterns. However, it will be useful to compare the desired products in different online stores judiciously. In addition, you can also search for shipping costs, taxes, and, if applicable, the cost of returning the product.
Find the best deals:
Just like physical stores, online retailers also have the best deals and discounts on their products and services. You can search for sales in various online stores and take advantage of the best deals. Today, due to increasing competition, many mid century modern Furniture in dublin offer discounts and sales to attract customers.
Look for shipping options:
Different stores have different shipping costs and different services. Three main delivery options are:
During home delivery, the driver delivers the product to your home, usually on the first floor of your apartment. You have to transport the product to your home yourself. This is the cheapest option of all.
In indoor delivery, the delivery man brings the furniture inside your home. This includes taking the product upstairs and placing it around the house.
In the white glove delivery option, the courier not only brings the furniture to your home but unpacks and installs it for you.
All of these options have different delivery and shipping costs. Choose the one that suits you best.
Buy on secure sites:
Buy furniture only from secure websites to reduce the risk of identity theft. Once the payment process has started, you should see details indicating that the site is safe. Check the URL of the page. If you buy mobile from a secure site, the URL changes and starts with HTTPS instead of HTTP, indicating that the site is safe. You may see a lock icon somewhere at the bottom of the web page; it is also an indicator of the security of the website. Double-click the lock icon to view information on the website's security measures.
Additionally, secure websites usually contain information in the FAQ detailing their security policies. Be careful when replying to promotional emails, and make sure an email is valid and safe before clicking any link within the email. After clicking on a link, before finalizing any purchase, look for signs that the website you are visiting is safe.
More Details About It
Determine Your Needs Before making any purchase, it's important to determine what you need. Take a moment to assess what pieces of furniture you're looking for, what style you prefer, and what budget you have. This will help you narrow down your search and make your shopping experience more focused.
Research Your Options Once you know what you're looking for, it's time to research your options. Browse different online furniture stores, check out customer reviews, and compare prices. Note the stores that have the pieces you like and are within your budget.
Check Shipping and Delivery Before finalizing your purchase, check the shipping and delivery details. Some stores offer free shipping, while others charge for it. Additionally, be aware of the estimated delivery time and if there are any restrictions on the delivery location.
Look for Discounts and Coupons Many online furniture stores offer discounts and coupons, especially for first-time buyers. Look for these deals before making your purchase to save some money.
Check Return and Refund Policies It's always a good idea to check the return and refund policies of the store you're buying from. Make sure you understand the conditions for returning or exchanging a piece of furniture, as well as the refund process.
Measure Your Space Before placing your order, measure your space to ensure the furniture will fit. This will prevent any disappointment or hassle of returning furniture that doesn't work.
Place Your Order Once you've found the perfect piece of furniture, double-check all the details and place your order. Make sure to save your confirmation email and tracking number to track your purchase and be aware of any updates.
Conclusion:
These furniture buying tips apply to all online furniture store that you can visit while shopping for furniture online. We hope they help you find the perfect compact furniture online for your space. You can buy online very easily. But the question is where you want to buy. You can buy from any online trusted platform, like AVRS Furniture.
Also read: Why modern luxury furniture is the best choice.