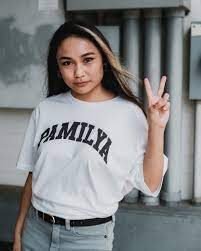 The oversized shirt has become a staple of the fashion world, and it's no wonder why. They are comfortable, versatile, and easily dressed up or down. Whether you prefer a classic, oversized T-shirt or a flowy, billowy blouse, this trend is perfect for any style. This article will explore how to style an oversized shirt outfit for a trendy and comfortable look.
How to style an oversized shirt outfit?
1. Pair with Leggings or Skinny Jeans
Oversized shirts are often worn with leggings or skinny jeans as a way to style them. A comfy and casual look like this is perfect for those who love to be comfortable. To keep the outfit from looking too sloppy, choose leggings or skinny jeans that fit well and balance out the volume of the shirt. If you want to complete the look, you can wear sneakers or ankle boots.
2. Trousers with wide legs
Wide-leg trousers pair well with an oversized shirt for a sophisticated look. A dinner date or a special event would be perfect with this combination. You want to let the shirt take center stage, so choose a neutral color like black or white.
3. Tuck into High-Waisted Shorts
For a more put-together look, tuck your oversized shirt into high-waisted shorts. By doing so, you will be able to create a defined waistline and make your outfit seem more polished. Choose shorts in a neutral color, such as black, white, or denim, to let your shirt be the statement piece. The look can be further elevated by wearing heels or sandals.
4. Dress it up
You can wear an oversized shirt as a dress if it is long enough. If you prefer a relaxed, bohemian style, this is a great option for you. To make the shirt work as a dress, choose a shirt that falls mid-thigh or just above the knee. Add a belt at the waist to create definition, and finish the look with ankle boots or sandals.
5. With Wide-Leg Pants
For a more dressed-up look, pair your oversized shirt with wide-leg pants. You can wear this combination to the office or out for a night on the town. Opt for a bold print or bright color to make a statement.
6. As a Jacket
An oversized shirt can be worn over a simple tank top and jeans as a jacket. It is a great way to add extra warmth to your outfit while still looking stylish.
7. With Skirts
For a feminine twist, pair your oversized shirt with a skirt. Choose a pencil skirt for a professional look or a maxi skirt for a bohemian vibe.
8. Layer over a Slip Dress
Layer an oversized shirt over a slip dress for a chic and modern look. This combination creates a relaxed yet sophisticated outfit that is perfect for any occasion. Your shirt should be layered over a slip dress in a neutral color, like black or white. A pair of heels or ankle boots will finish off the look.
9. Jeans with a high waist
Pairing an oversized shirt with high-waisted jeans is a classic and comfortable look that never goes out of style. The high-waisted jeans will define your waistline and balance out the volume of the shirt. Roll up the sleeves to add an extra touch of casual charm.
10. As a Dress
Wear your oversized shirt as a dress by simply belting it at the waist. It creates a chic and effortless outfit that's perfect for a casual day out. Choose a statement belt to add some personality to the look.
11. With Shorts
For a fun summer look, pair your oversized shirt with shorts. Whether you choose denim shorts or something more playful like leopard print, the combination will turn heads.
The perfect accessories for an oversized shirt outfit
· Belts
Adding a belt to a big shirt outfit is a simple yet effective way to define your waistline and add some shape to your outfit. Choose a statement belt to make a bold fashion statement or a classic leather belt for a more understated look.
· Jewelry
A statement necklace or a pair of statement earrings can instantly elevate an oversized shirt outfit. Choose pieces that complement the color or pattern of your shirt to create a cohesive look.
· Sunglasses
Sunglasses are a must-have accessory in any season. In addition to providing practical sun protection, they add a touch of glamour to any outfit. Choose a pair that flatters your face shape and complements your outfit.
· Bags
A stylish bag can complete an oversized shirt outfit and add some extra practicality. Choose a crossbody bag to keep your hands free or a tote bag to carry all your essentials.
· The Shoes
An outfit with an oversized shirt can be made or broken by the shoes you wear. Choose comfortable sneakers for a casual look or dressy heels for a more sophisticated feel. Ankle boots are also a great option for fall and winter.
· Hats
When worn with a big shirt, a hat adds an extra touch of personality. Choose a wide-brimmed sun hat for a bohemian vibe or a fedora for a more classic look.
· The scarf
An oversized shirt outfit can be made more stylish and warm by adding a scarf. Choose a patterned scarf to make a statement or a solid color scarf to add a pop of color.
· Brooches
A brooch is a fun and unexpected way to accessorize an oversized shirt outfit. Choose a vintage-inspired brooch for a classic look or a bold and modern brooch for a contemporary vibe.
What to Consider When Wearing an Oversized Shirt Outfit?
· Fit
While oversized shirts are meant to be loose and comfortable, choosing one that still fits properly is important. It is important to make sure your shoulders fit well and your sleeves are the right length. Avoid shirts that are too large, as this can make you look slouchy and unkempt.
· Fabric
Consider the fabric of the shirt when choosing an oversized shirt outfit. The lighter fabrics, such as cotton or linen, are ideal for warmer weather, while the heavier fabrics, such as wool or flannel, are ideal for cooler weather. Fabrics that are appropriate for the occasion and flatter your skin tone should be chosen.
· The Length
When choosing an outfit, it is important to consider the length of an oversized shirt. Shorter shirts are great for showcasing high-waisted pants or skirts, while longer shirts are perfect for wearing dresses.
· Colors and prints
Make sure the print or color you choose complements your skin tone and personal style. Bold prints and bright colors can make a statement, while neutral colors like black, white, and gray are more versatile.
· Layering
Oversized shirts are great for layering, as they can easily be worn over a tank top or t-shirt. Consider the weather and your desired level of warmth when layering, and choose pieces that complement each other in color and texture.
· Balance
When wearing an oversized shirt, it's important to balance out the volume with fitted pieces like high-waisted pants or a belted waist. It creates a flattering silhouette and helps to define your waistline.
· Occasion
Consider the occasion when choosing an oversized shirt outfit. A more dressed-up look can be achieved with wide-leg pants or a skirt, while a casual look is perfect with leggings or shorts.
· Personal Style
Finally, choose an oversized shirt outfit that represents your style. Be sure your outfit reflects who you are and makes you feel confident and comfortable, no matter what prints or colors you choose.
Why are Oversized Shirt outfits becoming so popular?
The oversized shirt trend has become increasingly popular over the past few years. It is because of their comfort that they are so popular. An oversized shirt can be loose, flowy, and often made of soft materials, making it a comfortable choice for everyday wear. The ability to dress them up or down according to the occasion has led to them becoming a staple in many people's wardrobes.
It is also because of their versatility that they are so popular. An oversized shirt can be paired with various bottoms, such as jeans, skirts, or pants, making it a versatile piece that can be worn in various settings. It also allows for layering, creating different looks and styles, making it a great option for those who want to experiment with their fashion choices.
In addition, oversized shirts have become popular because of the aesthetic they create. They often add a relaxed and casual feel to an outfit, making them great for creating a more laid-back look.
They can also create an edgier or grunge look paired with leather or denim items. The loose fit of an oversized shirt can also create an effortless and carefree vibe, making it a popular choice for those who want to look stylish without trying too hard.
Finally, the trend toward sustainability in fashion has also contributed to the popularity of oversized shirts. As they are often loose and flowy, they are more forgiving in terms of fit, which means they can be worn for longer periods without losing shape. Additionally, they are often made of sustainable materials, such as organic cotton or recycled polyester, making them more environmentally friendly.
Is an Oversized Shirt outfit affordable?
Oversized shirts can be affordable and expensive, depending on the brand and the materials used. There are affordable options available at fast fashion retailers. These shirts may last less than more expensive options, but they are a good choice for those on a budget who want to try the trend.
On the other hand, high-end designers and specialty boutiques may offer more expensive oversized shirts made from premium materials, such as silk or linen. These shirts are of higher quality and will last longer, but the higher price reflects the attention to detail and premium materials used.
In addition, vintage and second-hand shops are great options for finding affordable oversized shirts. These shirts are often unique and have a unique character that sets them apart from mass-produced options. They also have the bonus of being more sustainable, as they are being repurposed rather than purchased new.
In the end, the affordability of oversized shirts will depend on an individual's budget and taste. Affordable options are available, but it may take some research and comparison shopping to find the right shirt for your budget. However, investing in a higher-quality shirt made from premium materials will likely last longer and provide better value in the long run.
Conclusion
Oversized shirts are versatile and stylish items that can be worn in many ways. Whether you prefer a comfortable and casual look or a chic and sophisticated style, there is an outfit for every occasion. Find the look that works for you by experimenting with different pairings. With the right accessories and styling, an oversized shirt can become a staple in your wardrobe.
Apart from that, if you want to know about What Outfits Can I Wear Patches With? then please visit our Fashion Category.
FAQs (Frequently Asked Questions)
What is an oversized shirt?
An oversized shirt is a type of shirt that has a loose, roomy fit compared to a regular-fitting shirt. It is often worn intentionally as a style choice to achieve a relaxed, casual look.
Who can wear an oversized shirt?
Anyone can wear an oversized shirt regardless of body shape, age, or gender. It's a versatile style worn by anyone looking for a comfortable and effortless outfit.
How should an oversized shirt fit?
An oversized shirt should have a loose, roomy fit larger than your usual size. Any tightness or constrictiveness should be avoided. You should be able to move freely and comfortably when wearing an oversized shirt.
How do oversized shirts differ from one another?
Oversized shirts come in various styles, including tunic tops, button-downs, graphic tees, and flannels. They can have long or short sleeves, collars or no collars, and can be made from a range of fabrics such as cotton, linen, or silk.
What are some ways to style an oversized shirt?
It is possible to dress up or down oversized shirts, depending on the occasion. For a casual look, pair skinny jeans or leggings with an oversized shirt. Put the shirt in high-waisted pants or a skirt for a dressier look, and wear heels with it. To add personality to the outfit, you can also add jewelry, a belt, or a statement bag.
Can oversized shirts be worn to the office?
Yes, oversized shirts can be worn to the office if styled appropriately. Choose a crisp, tailored shirt in a neutral color and tuck it into a high-waisted skirt or pants. A blazer or jacket will give you a professional look.
What occasions are suitable for wearing an oversized shirt?
It is appropriate to wear oversized shirts for a variety of occasions, from casual gatherings to formal occasions. They're great for running errands, lounging at home, or even for a night out when paired with the right accessories and bottoms.