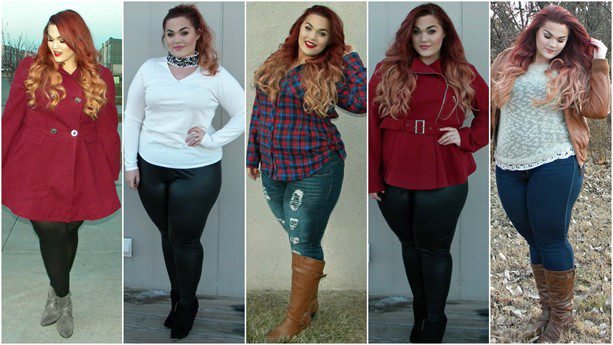 Last Updated on August 17, 2023 by
As the chilly weather approaches, it's time to put away your sundresses and make way for the comfy winter wardrobe. The cold season outfits have their charm as the ladies get to experiment with layers, stylish outwear, boots, leather, and more.
Whether you are a slim gal or a curvy beauty, chances are you might be torn between choosing style and fashion over warmth and comfort.
To all plus-size ladies, whether it's that new mini dress you always wanted to wear or a plush jacket that gently hugs you during the chilly season, this is your chance to flaunt your style and be creative in your own way.
Following are some comfy winter outfit ideas for you to try.
1. Go for the quality basics:
Whether it's your spring or winter wardrobe, every season requires a few essential items that can work with every outfit. As a gorgeous curvy lady, it's necessary to keep your wardrobe updated with a few quality basics which can go well with different layers and accessories.
You don't need to fall into stereotypical trends but focus on keeping a few staples that work well with your body type. For instance, a few staples like full-sleeve shirts, plus size jeans, your go-to jackets, boots, and blouses should always be a part of your winter wardrobe.
You can effortlessly pair these items with more fashionable ones like eye-catching knitwear, statement accessories, and feminine ensembles.
For example, curvy women can rock a simple but chic look with their go-to jeans, full-sleeve knit sweater, boots, a fun chainmail bag, and a chunky belt.
2. Stock up on cardigans and jackets:
What's a winter outfit without a flattering cardigan or a leather jacket? A stunning silhouette-savvy cardigan is all you need to flaunt your curves and elevate a simple winter outfit. Long coats, jackets, and cardigans complement form-fitting outfits without letting you freeze.
Some of the best looks we love for the winter include pairing a thin-fitted turtleneck with knee-high boots, dark jeans, and a double-breast teddy bear coat. Another street-style winter look we want you to try is to pair your oversized plaid gentry coat with embellished knitwear, combat boots, and flared pants.
These accentuate your curves and emphasize your figure while keeping you warm.
3. Sweater dresses are trending:
Knitwear like sweaters is the comfiest piece of clothing one can wear in the chilly weather. From a fashion standpoint, sweater or knitwear dresses are barging their way in this season. We are seeing many curvy celebrities rocking full sleeve knit dresses with statement boots and minimal jewelry.
It's a common notion among curvy ladies thinking a sweater will hide their extra weight, but why hide it when you can flaunt it? Sweaters look flattering on women of all sizes, especially when paired with the right jacket and accessories.
For instance, one of the classiest winter looks is to pair your go-to sweater with leggings, ankle boots, and a fur coat to complete off the look. We also recommend going for gorgeous styles like bright-colored knit dresses paired with matching belts, bold braid wrap cardigan, and croc-embossed boots.
4. Balance out your layers:
As a beautiful plus-size woman, you must be extra sensitive about not looking too "puffy" during the winters because of all the warm layers. Well, we are here to tell you that you can wear as many warm layers as you want, only if you know how to balance them.
The key to achieving the perfect curve-hugging cozy look in the cold weather is to know which layer balances out a specific clothing item. For example, if you are going for a loose shirt or blouse, you must balance it with well-fitted outwear such as a mid-length or a Sherpa jacket. In order to make your curves more defined you can also take the help of a corset. It will give your waist a desirable hourglass shape and will make you look like a goddess. More corset information here.
Going for a flattering crop top and tight jeans? It's all about how you balance the elements, including the accessories. For instance, the best way to control your layers is to belt them. That makes your waist look toned and reduces bulkiness.
Finish off the look with a slouchy cardigan or boots.
5. Long sleeves and turtlenecks are essential:
Turtlenecks are a staple winter clothing item that we can't do without. Turtlenecks are warm, chic, and give off edgy vibes. This winter, you can try a cutout turtleneck sweater with matching pants and a shearling coat.
A turtleneck fishtail dress with long sleeves is terrific, especially when paired with a printed statement coat. Turtlenecks also look great with faux leather jackets, scarves, and oversized sweater vests.
Want to go for a simpler look? Pair your favorite long-sleeve turtleneck with distressed jeans and a patterned wool coat. If you love the basics, go for a neutral-toned textured turtleneck with two-toned baggy pants, matching jackets, and add the final touch – a thick faux puffer.
6. Play with patterns and colors:
They should exile the person who said that plus-size women should only wear black because it makes them look less bulky. Not true! Even though people like to go for subtle colors during winter, if you want to add that wow factor, then experiment with bold colors and patterns.
Try bright colors with floral prints and pair them with a statement fur trench coat. You can also go for unique stitched patterns and pair them with subtler elements like plain sweaters or jeans. Go for colored sweater vests and match them with flouncy skirts or leather dresses.
Try a loud geometric print sweater with slouchy boots, a knitted skirt, and a shaggy shearling coat for a high fashion statement.
A multicolored check coat with matching pants and combat boots is an excellent idea for a more flattering look. We want to give a final recommendation for a retro puffer jacket that looks killer with faux leather trousers.
Conclusion:
The coming season is the perfect time to jolt your wardrobe and try unique looks. Your figure doesn't matter because there are countless essential and high fashion items which look breathtaking on plus-size women.
From faux leather jackets to all types of knitwear, our list gives you the perfect ingredients to make your recipe for stylish, chic, and warm outfit ideas for the cold weather. So, open your wardrobe, throw everything out, and start styling for the best winter looks.