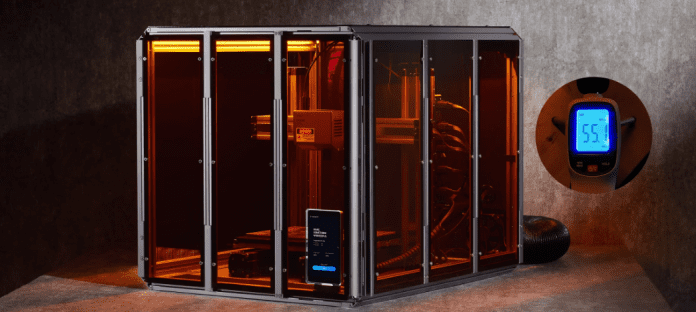 Last Updated on August 3, 2023 by asifa
Whether you are working from the office or at home, it is highly advisable to get the laser engraver enclosure for your workstation. The Snapmaker 2.0 enclosure is a necessary safety tool that offers a controlled environment for 3D printing. The enclosure is an accessory that serves to add an extra layer of safety in your work area and protect those around you.
It is important to note that the Snapmaker enclosure is sold differently from the printer, and it is meant to offer additional functionality and convenience. Only the Snapmaker Artisan comes with the enclosure as a package.
Let's look at some of the ways the Snapmaker enclosure keeps you safe while working.
Laser reduction – the enclosure panels are specially designed to reduce the impact of laser from the laser module. The enclosure reduces laser impact from the highest level, class four, to class one.
The enclosure 3D print comes in handy when you need to get rid of dust and smoke produced during a printing process. Cover your 3D printer and turn on the exhaust fan. This will cast off all the dust and smoke. When not using your 3D printer, you can cover it with the enclosure to keep out the dust and dirt. Purify the air paired with the Snapmaker 2.0 air purifier; the enclosure 3D print helps to improve the quality of the air you inhale when working. These two must be used together to achieve the best results.
If you want to work near your 3D printer, then you'll need an enclosure to help reduce the amount of noise produced when it is running. An enclosure reduces the noise level by up to 10db, thus making it easier to focus on other things even when your printer is running. In addition, this soundproofing feature makes it easier to work in communal spaces.
The tri-fold magnetic doors on the enclosure 3D print are designed so they can be triple-folded, meaning they only take up a small amount of space. This way, you don't have to worry about the enclosure taking a huge bite from your working station. In addition, the tri-fold doors are a great childproofing feature that will keep away children and pets from your 3D printer.
The door detection feature automatically pauses any laser or CNC job when either door is opened, thus increasing your safety. The current process will resume with just a few taps on the touch screen.
We all know that printing with high-performance filaments requires a steady temperature. The enclosure 3D print helps to maintain the temperature to reduce the likelihood of warping due to temperature variation.
If lighting is an issue at your workstation, then you should invest in a Snapmaker 2.0 enclosure. It comes with built-in led strips that allow you to work at any time of day or night. Thanks to this lighting feature, it becomes easier to keep track of any ongoing printing process.
The enclosure frame is constructed with aluminum beams, and this allows you to add official and DIY add-ons to your machine.
Easy installation – as an accessory, the enclosure is designed for easy installation, and it seamlessly integrates with your Snapmaker 3D printer. The enclosure comes with all the necessary hardware, and it is easy to assemble into a secure and stable structure.
If you plan on purchasing an enclosure 3D print accessory, it is recommended to do so from the official Snapmaker website. Not only are the prices great, but you get free shipping for goods over $99. In addition, it comes with a one-year warranty.
The Snapmaker 2.0 enclosure is compatible with the Snapmaker 3D printer series. However, you should check to ensure that the enclosure you get matches your 3D printer's base unit.
Apart from that, if you are interested to know about Snapmaker: The Ultimate 3D Printing and CNC Solution then visit our Technology category.