Last Updated on May 30, 2023 by Umer Malik
If you're looking to update your wardrobe with the latest t-shirt styles, you've come to the right place. In this article, we'll be discussing the hottest t-shirt trends of 2023 that will help you stand out from the crowd. From bold prints to sustainable fabrics, these trends are sure to keep you looking stylish and feeling comfortable all year round.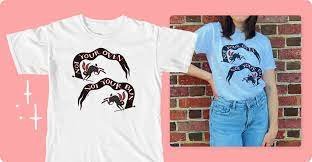 Bold Prints:
Make a Statement with Eye-Catching Designs If you're tired of plain t-shirts, bold prints are the way to go. From animal prints to abstract designs, there are countless options to choose from. Not only do these prints make a statement, but they also allow you to show off your personality and sense of style.
Here are some of the most popular bold print t-shirt styles for 2023:
| Print | Description |
| --- | --- |
| Animal Print | From leopard to zebra, animal prints are a timeless favorite. |
| Abstract Design | Geometric shapes and colorful patterns make a bold statement. |
| Graphic Text | Express yourself with a t-shirt featuring a clever phrase. |
Sustainable Fabrics:
Look Good While Doing Good As more and more people become conscious of their environmental impact, sustainable fabrics have become increasingly popular. These fabrics are made from eco-friendly materials and are produced using sustainable manufacturing practices. Not only do they look great, but they also help you reduce your carbon footprint.
Here are some of the most popular sustainable fabric t-shirt styles for 2023:
| Fabric | Description |
| --- | --- |
| Organic Cotton | Soft and breathable, organic cotton is a fan favorite. |
| Hemp | Durable and sustainable, hemp is perfect for t-shirts. |
| Recycled Polyester | Made from recycled plastic bottles, this fabric is eco-friendly and stylish. |
Oversized Fit:
Comfort Meets Style Gone are the days of tight-fitting t-shirts. Oversized t-shirts are all the rage in 2023, providing both comfort and style. Whether you prefer a loose-fitting shirt or a relaxed fit, oversized t-shirts are perfect for any occasion.
Here are some of the most popular oversized t-shirt styles for 2023:
| Style | Description |
| --- | --- |
| Boyfriend Fit | Inspired by men's fashion, this style is roomy yet chic. |
| Drop Shoulder | This style features a wider shoulder for a relaxed look. |
| Tunic Length | Long and flowy, tunic length t-shirts provide extra coverage. |
Retro-Inspired
Bring Back the Classics Everything old is new again in 2023, as retro-inspired t-shirt styles have made a comeback. From vintage band tees to 90s-inspired graphics, these t-shirts provide a fun and nostalgic look.
Here are some of the most popular retro-inspired t-shirt styles for 2023:
| Style | Description |
| --- | --- |
| Vintage Band Tee | Classic band logos and graphics make a bold statement. |
| Tie-Dye | This colorful and playful style is perfect for summer. |
| 90s Graphics | Bold typography and neon colors define this trend. |
Monochromatic Look
Simple Yet Chic For those who prefer a more minimalist approach, the monochromatic t-shirt trend is perfect. This look is all about sticking to one color and creating a sleek and sophisticated outfit. From black to white and everything in between, there are endless options for creating a monochromatic look.
Here are some of the most popular monochromatic t-shirt styles for 2023:
| Color | Description |
| --- | --- |
| Black | Sleek and sophisticated, black is always in style. |
| White | Crisp and clean, white t-shirts are a wardrobe staple. |
| Pastels | Soft and feminine, pastel colors add a touch of elegance. |
Conclusion
In 2023, pixels t-shirts are all about making a statement, whether that's through bold prints or sustainable fabrics. Oversized fits and retro-inspired graphics also play a big role in the latest trends, while the monochromatic look provides a more understated option. Whatever your style, there's a t-shirt out there for you. So, upgrade your wardrobe with these must-have t-shirt styles and stay on top of the fashion game in 2023!
Apart from that if you want to know about 15 T-Shirt Design Trends then please visit our Fashion category.