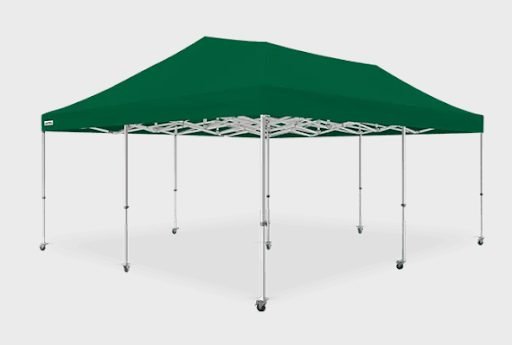 Last Updated on December 29, 2022 by
As a business owner, it feels quite a daunting task if you tend to think about how you can stand out among the hundreds of other vendors at a tradeshow. But we can tell you that custom printed 10×10 tents can do the trick for you. It will not only make your booth stand out but also attract more potential customers than ever. Learn to know about custom 10X10 canopy tents.
The Custom 10X10 canopy tents is a good product for any trade show, flea market, or other large vendor event. Large outdoor exhibition tents may give you more space to fit products and customers, but you will need more space to store your tent and it will also be time consuming to set up the tent and take it down. A custom printed 10×10 tents can be easily transported in whatever vehicle you use for transporting your vendor goods, and you won't have to rely on anyone else to install your tent to your vendor space. 
While you now probably understand how easily you can transport and install custom 10X10 canopy tents, the issue isn't over yet. Have you ever been to outdoor events where every canopy tent looks the same, except for the logo or artwork or custom graphics on the fabric? In fact, most come in at 10×10 canopy tent too. For many marketers, this is good enough and we are not going to argue with them. Because, at times, a heavy duty canopy 20×20 can protect you and anything you might be selling from inclement weather. On top of that, you add some artwork that identifies your brand and you're good to go.
But for the ones who want to stand out at their next event, there are other 10×10 logo tent ideas that go beyond the traditional design. In this blog, we are going to tell you about those ideas which you might implement in your next trade show or exhibition…
Pop up tent:
First, let's start with the most common design that a business owner thinks about when picturing a custom printed 10×10 tent. But how do you stand out from the rest? It's simple — what you can do is install a canopy that is much better than others in terms of strength, durability, overall aesthetic, and general use. Perhaps, you can use an all-aluminium frame that features octagonal telescopic legs for beefier durability. A decent pop up tent will do enough to attract new customers.
Flat roof pop up canopy:
The flat roof design is the best option for marketers who need a solution for events where there are height restrictions for canopies. 
Pagoda-style pop up canopy:
The pyramid-shaped roof is another popular choice as it offers a large overhang on all four sides, which increases shade and capacity. 
Billboard-style custom tent:
When you really need to stand out and want extra-large space for your logo and branding, use the billboard-style pop-up option. This custom 10X10 canopy tents is unique and features two designs in one structure. While the front portion offers a billboard-style look for a large canopy graphic, the back of the tent offers an even larger space for branding on the sloping surface.
Gable-style custom tent:
It features the look and durability of a gable-end frame tent, with the ease of setup and transport offered by a pop-up tent. And if you can add an optional side wall to both sides, the possibilities for design are endless. You can also use the gable-style tent as a drive-thru structure.
Hexagon-shaped canopy tent:
The hexagon-shaped canopy tent gives you a feeling of a heavy duty canopy 20×20. This is because it features more sides, more tent interior space, and more branding opportunities, much like how a bigger tent structure would give. If you have to deal with multiple people with different lines — think concession tents, brewery festivals, etc. — then this design is a great option. 
Inflatable event tent:
An inflatable tent can not only be set up by one person quite comfortably but it is also an easy way to stand out at an event. Event marketers love the design because it can be custom printed with your branding and because of it's incredibly lightweight. It also compacts nicely for easy storage. 
Conclusion
Pop up tents and logo tents create a magical experience and leave a lasting impression on your customers. So we would always suggest you to go for good quality products that will last long. A good looking tent always works because it tends to grab the customers' attention.
It is also advisable that you choose the custom printed 10×10 tent designs that are compatible with different types of accessories, including half wall options, foot plate weights, and peak and banner flags. These days, you can also make your display stand out by printing your own unique design and logo to bring the whole experience together.
Apart from this, if you are interested to know about Hosted VoIP UK then visit our Business category.