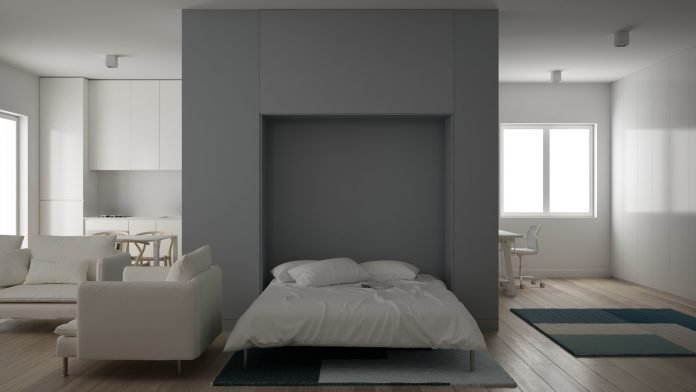 Last Updated on May 19, 2023 by Umer Malik
The average studio apartment costs a little bit less than the average 1-bedroom apartment. As a result, more people that are trying to save money may turn to the smaller space.
When you're dealing with limited space, however, you have to be crafty about how you fit large furniture, like a bed, into the mix. Murphy beds are a great solution to this problem!
Choosing the best mattress for a Murphy bed isn't as simple as just going to the store and selecting the first one you see. You have to consider dimensions, what type of mattress is most comfortable, and the price. Luckily, there are some basic things that you should know to help you choose the perfect mattress.
Keep reading below to learn more about what you should consider as you start your search.
Who Would Benefit From Having a Murphy Bed?
Gone are the days when a Murphy bed had to be a silly, impractical part of a living space. Today, Murphy beds are smart, convenient, and extremely functional for a home.
One of the best things about a Murphy bed is that it is a huge space saver. You can easily move the bed out of the way when you need extra space, so if you're living in a studio apartment or have a bedroom without much room, it's an ideal choice.
You're also able to use the room for more than just one use. Even if you have a larger home, you could still benefit from getting your own Murphy bed if you want a room that can be used for guests to sleep one minute and for exercise the next.
Plenty of Murphy beds also have very intricate and stylish frames that go right into the wall. You can use this to your advantage because you may even be able to find one that has extra shelving and drawer options for additional storage. This means that your Murphy bed saves space by folding up, but also by letting you store some of the items you use around the home!
Also, if you hate the idea of a standard pullout because you don't want to bend the mattress, the Murphy bed is the perfect alternative. It still gives you the option to hide the bed away with ease, but you can leave the mattress flat to the base so that it doesn't get damaged over time.
What's the Best Mattress for a Murphy Bed?
Now that you're even more convinced that a Murphy bed is for you, it's time to think about the type of mattress that is going to work for your home. Whether you're looking at a twin Murphy bed or a king Murphy bed, you need to find a mattress that is not only comfortable but is also of good quality.
The first thing to consider is that you need a mattress that weighs enough to keep the bed down when you have it out. The last thing you want is to have the bed accidentally spring back up right after you've made the bed. Look for a mattress that is at least 55 pounds to prevent this from happening.
You also don't want to get a mattress that is too thick because it won't fit into the wall the right way. Although this will depend on the frame that you buy, you generally want to avoid any mattresses that are bigger than 12 inches thick. Take a look at the instructions provided on your frame to get a more accurate measurement before you start mattress shopping.
When choosing the best mattress, you need to avoid latex mattresses entirely. They are not able to stand upright for periods of time, which is necessary for when you have the Murphy bed folded up into the wall.
Memory foam mattresses are a great option for a Murphy bed because they give you a lot of support. They are also available in different firmness levels, so you can choose the one that will be most comfortable for you.
If you're a side sleeper (like so many people are), you want to get a mattress that is soft but still supports spine alignment.
What Other Factors Should You Consider?
Don't try to use an air mattress on a Murphy bed. They aren't heavy enough to keep the frame down and can lead to an unsafe situation.
You also will not need to get a box spring for your mattress, no matter what kind you choose. Murphy bed frames, like those from Wilding Wallbeds, are built with a platform inside that serves the same purpose.
Lastly, be sure to invest in mattress straps if they don't come with the frame you pick. They will make sure that your mattress doesn't slide down while it's up, and they also help with ensuring that the mattress stays away from the wall entirely.
How to Make Your Murphy Bed More Comfortable
An easy way to make your bed more comfortable is to make sure that you have a pillow that supports your head and neck. You also need to choose bedding items that are soft and help you control your temperature.
For instance, bamboo sheets are a popular option for people that are willing to spend a little bit more and are seeking a soft, delicate sheet.
If you're interested in updating your comforter, you could get a duvet with an aesthetically pleasing duvets cover that goes with the other decor in the room. This way, when your bed is down, it will look like it belongs in the room even more!
In colder climates, you may want to have some extra throw blankets nearby. In your Murphy bed, you may have access to storage options that you can use to keep extra pillows or blankets for easy access.
Choosing the Right Mattress for You
As you can see, the best mattress for a Murphy bed in your home will depend on your personal inclinations. You should make sure that the mattress you choose fits into your frame well, and your mattress should be comfortable for your sleeping preferences.
If you found this content helpful, be sure to check out some of the other articles next!
Apart from that, if you are interested to know about Eddie Murphy Net Worth 2021, Biography, Wife, and Children then visit our Home improvement category.