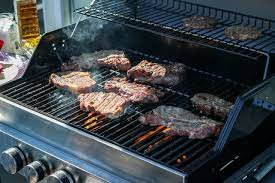 Last Updated on March 8, 2023 by ahmadaftab
With so many commercial smokers on the market, it can be hard to figure out which one will be the best option. There are some features you should consider in order to find the right smoker instead of just relying on the price point alone.
Number of Racks
Vertical smokers have more racks so that you can load more meats. These products are going to be a better choice for restaurants that have limited kitchen space. Rib racks that have four or more spacer bars will allow for heat to pass through more evenly, so your area is able to smoke more ribs at once. The best smokers will help ensure that the cooking temperature through the grill is even so that you can have more racks and a consistent flavor throughout all the meats you are cooking.
Dimensions and Size
If you have a small restaurant, then you may only have space for a smaller smoker. Larger kitchens and cooking outlets can accommodate smokers that are seven feet wide to get faster smoking results for a large number of meats. You also want to consider the type when looking for the right choice. If you have a compact or vertical smoker with racks arranged in layers, then you can have two of them side by side, if space allows, to increase the square-inches capacity easily.
If you choose to have a 100% wood-burning pellet-fired smoker, you will need to ensure you have the extra space needed for the offset firebox. Whatever price point you choose, find a smoker with four locking wheels. This will make placing the smoker in the right grilling spot much easier for safety.
Fuel Type
Commercial smokers can use electricity, wood, charcoal, or gas as fuel. If you want to use an electric smoker, you need access to an electrical power source. When choosing an option, remember that an electrical or gas smoker doesn't provide the same smokey, charred flavor that wood or charcoal can. No matter the fuel type, you can find one that is easy to use with fully digital controls for maintaining optimal cooking temps and cooking the meat. These newer products are designed to have the best accuracy. A gas smoker grill is one of the most popular choices because it is usually affordable and easier to use than other options.
Temperature Control
Choosing a smoker with top-quality control features makes it easy to regulate heat and the process of generating heat. Different brands have different capabilities when it comes to digital controls to manage temperature fluctuations and cooking temperatures.
Cooking Area
If you have limited space in the kitchen, then you will need a vertical smoker. A water pan can be one of the best features you can get to keep the meat moist if you have the space. Larger restaurants may need a bigger smoker to increase cooking capacity.
Durability
Ideally, commercial smokers have durability and are made from top-grade steel. The best options are made on a tubular steel perimeter and can be strong enough to be moved around without warping or bending. The seams around the smoker should be sealed securely to prevent any water absorption. You also want to have high-quality insulation in place to avoid heat loss.
Warranty
Most products have a one- or two-year warranty, but an extended warranty can be helpful for commercial smokers to kick in if the smoker breaks down when you are using it. Be sure to always check the warranty before buying. 
Overview
Commercial smokers are essential equipment for restaurants, catering businesses, and other food service operations that require smoking large quantities of meat, poultry, or fish. However, with so many available options, choosing the right one can be overwhelming. In this buying guide, we will explore the key factors to consider when purchasing a commercial smoker.
Type of Smoker: The first decision you must make is what type of smoker you want to buy. Several types include wood-burning, electric, propane, and pellet smokers. Each has its advantages and disadvantages, so it's essential to understand them before making a choice.
Cooking Capacity: The cooking capacity is an important consideration when buying a commercial smoker. You should consider the size of your business, the amount of food you plan to smoke, and the number of customers you will serve. Smokers come in different sizes, ranging from small units that can handle a few pounds of meat to large units that can smoke several hundred pounds.
Temperature Control: Temperature control is crucial for smoking meat, poultry, or fish. You need to be able to set and maintain a consistent temperature throughout the smoking process. Some smokers have built-in temperature control, while others require manually adjusting the temperature.
Construction: The construction of the smoker is also important. You want to buy a unit that is durable, easy to clean, and made from high-quality materials. Stainless steel is a popular choice for commercial smokers because it is durable and resistant to rust.
Additional Features: Some smokers come with additional features that can make smoking easier and more efficient. These features include digital controls, timers, and smoke generators. While these features are not essential, they can make a difference in the smoking process.
Read more: Buying Guide to the Best Console Tables.