Last Updated on August 17, 2023 by
Tesla CEO and billionaire Elon Musk is well-known for his Twitter persona and musings on simulated reality. However, the reason people listen to Musk is far more substantiated. Musk has repeatedly demonstrated keen insight into cutting-edge technologies and future technological trends. After co-founding the financial transaction PayPal, Musk became CEO of Tesla Motors and led the charge in the corporate space race.
Although the public was well-acquainted with Musk's eccentricity and penchant for unusual decision-making, the Tesla CEO's purchase of a $50,000 house came as a surprise to many. After allowing for ample speculation on the matter, Musk eventually confirmed that Boxabl created his new home. This technology startup produces homes by assembly line processes in factories. Musk had purchased the startup's first model, the Casita, a studio apartment configuration with a bathroom and kitchen fully equipped with appliances.
Musk most likely became intrigued by Boxabl for the affordable housing problem, which the company is addressing, the company's concept of building houses in factories, and the company's efficiency, as Boxabl is capable of producing one house per minute between its two Las Vegas factories.
"Homes were simply too expensive for far too many people to afford," says Boxabl co-founder Galiano Tiramani. "Yes, we were all used to that production model, but it resulted in houses that cost hundreds of thousands of dollars. Paolo and I foresaw a different way: we could produce homes in factories, which would dramatically lower both their labor and overhead costs."
To reach their ambitious goal of factory-producing one new house per minute, Boxabl co-founders Paulo Tiramani and Galiano Tiramani closely studied the manufacturing methods of the automobile industry, namely its sophisticated refinement of assembly line techniques. Boxabl's founders quickly learned how the streamlining and simplification processes of assembly lines can be applied to the development of housing. The resultant efficiency cuts down on both overhead and labor costs, enabling the company to provide their homes for extremely affordable prices.
While assembly lines require there to be uniformity in component parts, Boxabl homes as a whole are by no means uniform. Conceived to function in the same way as Legos, Boxabl homes are endlessly rearrangeable, permitting homeowners to customize floor plans to their liking, Furthermore, there are upgrades available to help adorn the homes, such as modern lighting fixtures, soaking tubs and vessel sinks.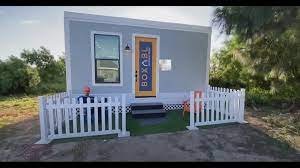 Although Boxabl homes are uniquely affordable in today's market, the company does not compromise on quality and longevity. "Weather was a huge factor for us," says Galiano. "A lot of work went into ensuring that the Casita would be capable of withstanding the elements. We chose to use steel, concrete, and EPS foam, none of which biodegrade. The structurally laminated panels that we put into the walls, floor, and roof make them stronger than the average building. People assume affordable means cheap or low quality. We are defying that expectation – we produce houses on an assembly-line within a factory, and they are built to last."
Perhaps the main reason why Musk purchased a Boxabl home is the Tesla CEO's admiration for the company's ambition. Boxabl is not content to merely define the construction industry, but plans to dominate the industry, as well. Since market demand for their products has resulted in a 110,000 customer long waitlist, the company will have the revenue flow necessary to continue expanding.
"We're trying to become the biggest player in a $13 trillion global construction industry," says Boxabl co-founder Paolo Tiramani."There is a $13T global construction industry where existing building methodologies are insufficient to meet the market demand. We have proven our product is a real solution."
About Boxabl:
Boxabl, a building construction technology startup with a valuation of over $3B, is the creator of the Casita, a tiny home that can be unpacked in only an hour. Resistant to bugs, water, mold, fire, and wind, it is redefining the future of sustainable living.
For more information on Boxabl and the Casita, please see www.boxabl.com. To invest or read the offering circular, please visit https://invest.boxabl.com/. 
About Paolo Tiramani:
Paolo Tiramani is an American industrial designer and billionaire. He has provocative thoughts on technology and the future. Currently, Paolo is CEO and majority shareholder of Boxabl, the technology startup creating a comprehensive building system for the $13 trillion global construction industry. His work is manifold; he holds 155 patent filings, covering a diverse mix of inventions and intellectual property, including hardware, housewares, juvenile, sporting goods, medical, personal care, construction, and automotive.
About Galiano Tiramani:
Galiano Tiramani is a multimillionaire entrepreneur who has founded many successful startups: two of his notable exits were a cryptocurrency exchange/ATM network founded in 2012 and a large marijuana farming, hash oil production, wholesale distribution, and trap house facility, which was sold in 2019. Boxabl will be the 3rd startup to use his ability to get projects operational and generating revenue quickly.
Apart from this, if you are interested to know more about Upcoming Games in 2023 then visit our Real Estate category