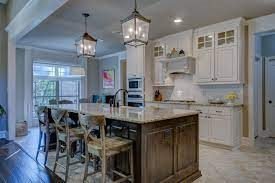 Last Updated on August 15, 2022 by
Do you dream of the perfect farmhouse kitchen?
Few styles can compare with the warm welcome and homely charm of a farmhouse kitchen. But while the style should pull from the nostalgia from the past, it's easy to end up overdoing it. The result could end up looking frumpy, old-fashioned, and dated.
It doesn't have to be this way! Keep reading for our guide on how to design a farmhouse style kitchen that you'll love for years to come.
Use White Cabinets & Humble Hardware
You can install new cabinets or you can repaint your existing ones. Either way, for a farmhouse home remodel, you want to choose white, cream, or beige. This will give that bright, warm farmhouse feel in an instant.
To take the look further, a lot of homeowners choose to use milk paint. It's non-toxic and waterproof making it a versatile and durable choice for the kitchen. It also gives a unique rustic finish that complements farmhouse decor.
On top of this, you want to use humble hardware for your cabinets. Brushed or antique finishes will give a touch of detail to bring the whole look together. Add in some farmhouse style decorations for that lived-in aesthetic.
Choose Marble, Wood or Soapstone Countertops
The next one of our farmhouse remodeling tips is to use marble, wood, or soapstone countertops. All three are great, but the most authentic choice (and most popular too) is wood.
In farmhouse design, wood plays a significant role in creating that warm, rustic charm. So wooden butcher block style is the natural choice. It's also low-maintenance, budget-friendly, and convenient.
Don't Forget a Farmhouse Sink
Over the last decade, designers have found ways to work farmhouse sinks into most styles. Farmhouse sinks (also called apron sinks) are wide and deep. This makes them as practical as well as beautiful.
Not only can they hold a lot of dishes and pans at a time, but they also protect your countertops. The size and depth make t much easier to avoid splashes, and any that there are will be minimal.
Go for Open Shelving or Glass Cabinets
Open shelving, exposed plate racks, or glass cabinet doors are a modern twist to balance the space. It's a great way to keep true to the heart of a farmhouse kitchen while keeping your home decor contemporary.
You can also show off your favorite dishes and decor pieces. Or, go for a simple set of white dishes to stay in keeping with a more modern feel. The sophisticated minimalism of this style speaks for itself with its functionality. Check here for more kitchen inspiration.
Add Exposed Beams and Classic Hardwood
If you're going all out with a full home renovation add in my exposed beams and classic hardwood floors. It's the quintessential image of a traditional farmhouse kitchen.
The world is your oyster when it comes to the type of hardwood flooring you use; it's that versatile. You could use:
Reclaimed wood
Vintage
Barn boards
Oak
Walnut
It's completely up to you! Exposed beams on your ceilings and walls are a vital foundational element. If you have them already, make sure you don't try to hide them away.
Add an Island or Large Wood Table for Community
If you have the space, it's a top recommendation to add a kitchen island. While this isn't a strict farmhouse essential, it creates a warm sense of community. That sense of community is an essential feature for farmhouse kitchens to be a success.
Another important feature for that family feel is a large banquet-style wood table. A big table that seats 8 or more people is a great focal point and makes the space feel welcoming and communal.
Farmhouse Style Kitchens: The Heart of the Home
The farmhouse style doesn't need to scare you if you follow this guide. Build off the fundamentals of warmth, rustic charm, and a welcoming communal feel. Light colors and natural woods are your friend here and will do most of the style heavy lifting for you.
If you enjoyed this article be sure to check out our other blog posts for more home renovation tips and tricks.
Read more: How to Choose a Kitchen Cabinet Color You'll Love