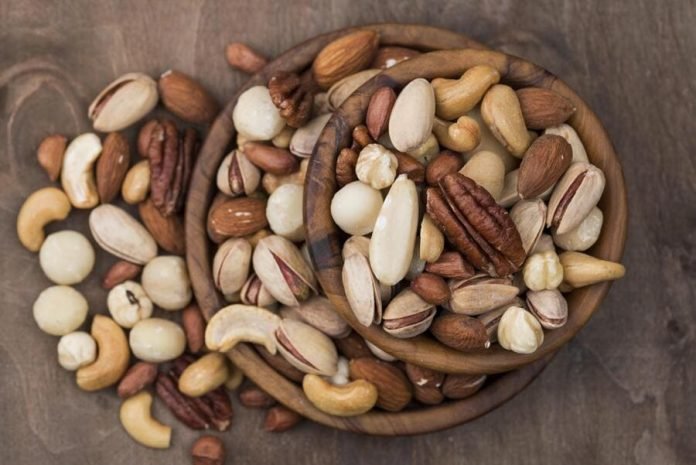 Last Updated on August 17, 2023 by
The nuts are widely recognized for their extraordinary taste, convenience, and nutritional value. The researchers have already touted many of the health benefits of these foods and suggested making them part of your regular diet. There are many distinctive types of nuts that can be bought easily from any of the grocery stores, gas stations and are packed with the most serious of the nutritional punch. The nuts are nutritionally rich and also comprise of many vitamins and minerals that are essential for the human body. So, there are many different nutrients that are providing lots of health benefits and also keep diseases at bay. Let's have a look at some of the organic nuts and how they prevent diseases and maintain overall health of human beings.
Here are some of the nuts that are high in nutrients and play an extremely vital role in the prevention of diseases and maintaining your overall wellness.
Almonds
These nuts have already become immensely popular owing to the large number of health benefits they provide. Today they are available in many different places of the world. The majority of the fats that are present in almonds comprise monounsaturated fatty acids. They are also a rich source of vitamins, minerals but contain less protein in comparison to peanuts. Almonds can also help in weight reduction. Being a rich source of fibres, it makes you feel fuller, making you eat less. It has also been found that almonds have prebiotic characteristics that are playing an extremely vital role in maintaining a balance of good bacteria present within the gut. The Organic Almonds Roasted Salted form the perfect protein-rich snack for people.
Pistachios
The pistachios are another tasty nut that comprise of proteins and many other essential nutrients. At the same time, they are an extremely rich source of fatty acids and antioxidants. One of the research studies has established that by consuming the pistachios on regular basis, there has found to be a significant reduction in the heart-related issues and beneficial impact on the blood pressure as well as the endothelial functioning. The fats that make up these nuts are mainly in the form of monounsaturated fatty acids as well as PUFAs. You can consume Pistachios Roasted Salted as a healthy snack.
Cashews
Cashewsare a rich source of good fats, fibres as well as proteins. Apart from that, it is also containing a good amount of iron, zinc. Iron plays a crucial role in delivering oxygen to all the body cells and preventing anemia. As far as zinc is concerned, it helps in building the immune system and developing healthy vision. The cashews can be consumed as an alternative to the carbohydrate-rich snack. One of the studies suggested that consuming it as a snack assist in lowering down the LDL cholesterol in all those people who had mildly large levels.
Walnuts
Walnuts are a rich source of omega-3 fats that help in fighting inflammation. One of the research studies has suggested that consuming walnuts on daily basis led to the improvement in cognitive functioning and also reduces the risk of developing cardiovascular ailments, depression as well as type 2 diabetes. Walnuts are rich in antioxidants and at the same time anti-inflammatory on your body. Also, Walnut Kernels are not only known for their healthy fat content but they are also a rich source of proteins and many essential other nutrients. You can consume organic walnut kernels that are crunchy, tasty, and loaded with immense nutritional benefits.
Peanuts
This is another nut that can add an instant boost to the intake of protein in the body. Although, peanuts belong to a food that is derived from the plant family, but they are categorized as nuts only. They are the rich source of polyphenolic compounds, flavonoids as well as proteins. All these serve as essential nutrients for human health.
Conclusion
Some of the research evidence has suggested that consuming nuts regularly can lower down the risk of cardiac ailments, diabetes and also prolong life. Whether you prefer eating almonds, cashews, walnuts, pistachios, or any other type of nut, you should know that you are consuming tons of nutrients during their intake on daily basis. Regardless of how you choose to get your fixing of the daily dose of nuts, they are bound to give you immense health benefits.
Read More: 5 Hidden Benefits of Organic Food