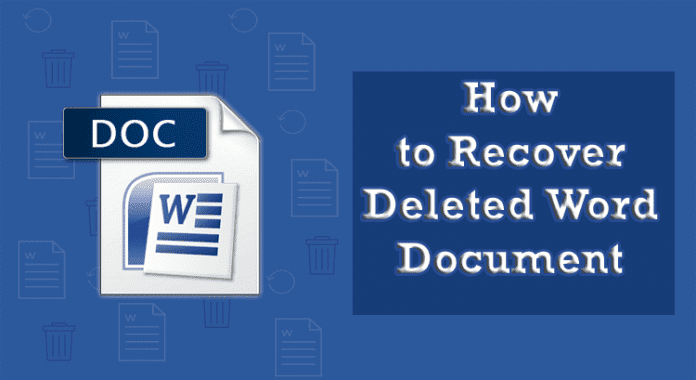 Last Updated on August 17, 2023 by
Microsoft Word is software that is quite reliable. The Docx format is supported by the most recent version of Microsoft Word. Microsoft Word files can get corrupted at times, and Microsoft Word will be unable to open them directly. This can happen for a numerous reasons, including the end of a process while Word is saving the file. In this article, we'll go over a few methods of how to recover deleted word document. Let's get started:
Common Causes of Word Document Loss
Power Outage
In electrical devices, power failure is a typical occurrence. It's always a risk with desktop computers. An electricity outage might happen at any time, primarily if you reside in a third-world country. Laptop batteries are available, but they are not always trustworthy. Although it is uncommon for healthy laptop batteries to fail, it does happen. Many people had complained about losing their work due to a power outage when they hadn't stored it. Auto-recovery is a helpful feature. In this scenario, Word isn't functional. You have no choice except to use alternative methods to restore your word document.
Freeze of the application
This is the second most common cause of losing your word documents. When you open a large number of websites and programs simultaneously, Microsoft Office Word freezes and stops responding, forcing you to use Task Manager to terminate and relaunch the program, resulting in the loss of your papers.
Windows 10 Update (Forced)
Every Windows user is aware of the irritating Windows 10 updates. It forces itself to update without the user's permission. It usually happens when you restart your device, but it can also occur while you're working. Many consumers complained that they were using MS Word when Windows unexpectedly continued to apply updates, causing their documents to be lost. Furthermore, the update procedure takes a long time to complete.
Cut-off of electricity
This is the most common reason for losing your document files, despite the fact that it is better than any other reason, as you will see later in this post.
This is frequent among desktop PCs since they lack an internal battery, which is found in laptops and serves as a power supply substitute.
How to Prevent Word Document Loss
Data has become increasingly vital for all businesses. Data loss, whether due to a security breach or an inadvertent error, may be disastrous for businesses. Here are seven ways to keep your data safe in your company.
1. Make regular backups of your files, regardless of where they are stored.
Simply saving your information somewhere other than your operating system isn't enough; you also need to back up your files regularly. Let's be honest. Backups also fail: CDs are scratched, hard drives fail, and floppies are wiped. It makes sense to have a second copy of a file to increase your odds of successfully retrieving it; if the data is genuinely vital, you might even want to consider storing a backup in a fireproof vault.
2. Keep physical copies of all of your paperwork.
While having a paper copy may not prevent you from having to type and format your document again, it will ensure that you have the file's contents, which is preferable to having nothing at all!
3. Store your papers on a different drive than your operating system.
While most documents save your files in the My Documents folder, this is the worst place to put them. The operating system is affected by the majority of computer problems, whether they are caused by a virus or a software failure, and in many cases, the only remedy is to reformat the drive and reinstall the operating system. In this situation, everything on the drive will be lost.
4. Protect your computer with anti-virus software and email security.
Hacking, phishing, and ransomware are among the most deadly email threats. Implement a thorough anti-virus and security system to prevent harmful emails from reaching your firm. Make it a point to skilled your employees on the necessity of email security regularly.
How to Recover Word Documents with Recoverit
If you don't have a backup, you'll need expert word file recovery software to get your photos back. Sometimes people also forget to save the document and want to recover unsaved word document. For that case WondershareRecoverit is a program that can help you recover all types of lost items from your computer, including videos, photos, documents, audio files, emails, and more. I'll show you how to recover word document from your computer using the best data recovery software Recoverit. The steps are in the given below.
Step 1: To begin, select the location of your missing Word document files and then click "Start."
Step 2: Word Document Recovery will scan your hard drive for any deleted or unsaved Word documents.
Step 3: After the scan, click the "Recover" button to examine all recovered Word document files, select the one you want, and save it.
Why Wondershare Recoverit Is Your Best Choice:
Wondershare Recoverit is mainly famous because of its extensive features. Recoverit 10.0 is more effective and faster than 9.0. Here we will discuss some advanced features of the newly upgraded software Wondershare Recoverit.
Recovery Success Rates are Higher
Recoverit 10.0 has a substantially greaterdata recovery rate than other data recovery tools and previous versions. Recoverit data recovery software can effortlessly restore essential data for you, whether due to an erroneous deletion, formatting, or data loss caused by a hard drive partition loss.
Apple T2/M1 Security Chip Now Supported
Despite significant obstacles, Wondershare Recoverit defeated the Apple T2 and M1 Security Chips. Recoverit engineers examined a variety of data recovery tools and determined that Recoverit 10.0 has the highest scanning and recovery rate for T2 and M1 chips.
Scanning Speed Increase
The scanning will usually take a few minutes to complete. When there are a lot of large files to go through, it can take a few hours. However, after millions of tests, Recoverit 10.0 has confirmed that scanning speed has vastly increased over Recoverit 9.0.
There are no size restrictions when previewing.
Because of the file preview limit, Recoverit 9.0 only allows you to preview files up to a particular size, regardless of whether you are using the commercial or free edition. Recoverit 10.0, on the other hand, allows you to preview your data without any limitations to provide you with a more and convenient experience when using this tool to retrieve your images, movies, audios, files, and so on.
Determine the Make and Model of Your Phone
This is a brand-new Recoverit 10.0 functionality. When you connect your phone to your computer and launch Wondershare Recoverit, it will even recognize the model of your phone. You can also use Dr.Fone to retrieve data from your phone if you've misplaced it.
24 Hours Customer Service
Support for online customers is available 24 hours a day, seven days a week.
If you have any issues with Recoverit during the recovery process, you can contact the 24-hour online customer care.
Conclusion
Wondershare Recoverit is an excellent data recovery program. That will work on almost any device. Even if you wish to recover video from an ancient camcorder, Recoverit can help. You can quickly test the free download to discover if it's the right program for you if you need to secure data because you work from home or want to know that your important file are protected.
Read More: Online Document Verification: Shrinking The Space for ID Fraud