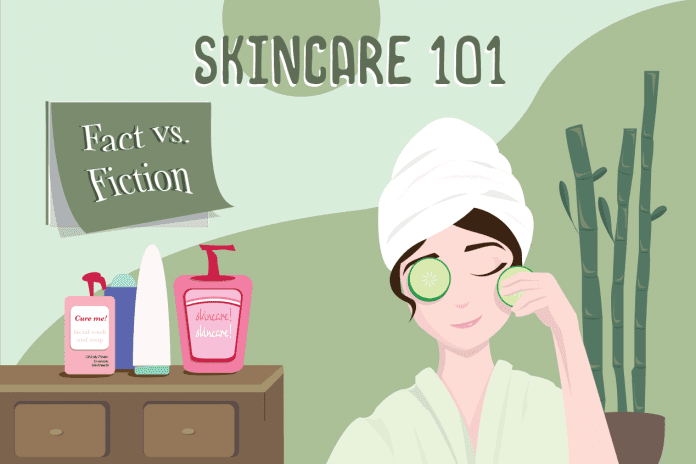 Last Updated on December 14, 2022 by Faiza Murtaza
If you want your skin to look and feel amazing, there's no getting around it; you have to keep it clean. Washing your face may seem like a small and simple task, but it really does do wonders for your complexion. In addition, it's easier to do it the wrong way than you might think. This guide will help you cleanse your face effectively, step by step. Learn to know what is Skincare 101.
Build the right routine
If you want to know how to start a skincare routine that works for your needs, you must understand that consistency is one of the most important factors. Skipping just one day or even one session can throw off your skin's balance and lead to numerous unwanted and preventable issues.
First and foremost, almost everyone should wash their face twice a day: once in the morning, and again before going to bed. The only exception to this is people with extremely dry or sensitive skin. Those with these skincare 101 types may be able to just rinse and pat dry in the mornings, assuming they cleansed their faces properly the night before.
Some situations may require more frequent cleansing. In general, you should wash your face as soon as possible any time it gets dirty and after working up a sweat. You should also cleanse promptly after swimming in chlorinated or salt water, and when it's time to remove sunscreen.
Pick a cleanser that suits your skin
Facewash options abound, with literally thousands to choose from. How can you know you've picked the right one for your skin? Trial and error is part of it, but you can give yourself a better shot at getting it right by keeping your skin type in mind. Also, be aware that you may benefit from using one type of cleanser in the morning and a different one at night.
In general, your go-to everyday cleanser should be hydrating and shouldn't leave your skin feeling tight and dry. Clarifying facewashes can be very beneficial, but shouldn't necessarily be used on an everyday basis. You may find that you need something that's more effective at removing makeup and buildup at the end of the day, while a gentler option works well in the morning.
Use a proper, gentle technique
Scrubbing your face might make you feel like you're getting it cleaner, but the best approach to washing your face involves a gentle touch. However, the setup is just as important. For starters, never wash your face with hot water. This can dehydrate your skin and lead to dry patches, damage, and irritation. To open your pores for a deeper clean while promoting relaxation, opt for warm water. If you want to minimize inflammation and close those pores up, cool or cold water works best.
You should only need a small amount of facewash, although products vary. Start with wet skin, work the cleanser into a lather, and use small gentle circles to cleanse your face. Take care when washing your eyes. Some products are safe while others can be irritating, so read the label carefully first.
When your skin is clean, rinse it well. Reach for a fresh, soft, clean towel, not one that's been hanging in your bathroom for several days. You want to minimize the number of bacteria you can transfer to your freshly washed face. Finally, resist the urge to rub with a towel. Always pat or blot dry instead to minimize skin tears and irritation.
Always follow up with a good moisturizer
No matter what skin issues you may be experiencing, it's important to always finish a face-washing session by applying a high-quality moisturizer to your skin. This applies to everyone, whether your skin is dry, normal, or even oily. In fact, people with oily skin may be the most in need of a good moisturizer.
When your skin is dry, your body reacts by ramping up oil and sebum production to better protect it. However, this increase in oil can be problematic and will often seep into pores, leading to acne. Hydration is often the key to keeping acne-prone skin more balanced and healthy, so breakouts occur less often.
When choosing a moisturizer, once again, keep your skin type in mind. Those with dry or sensitive skin can benefit from a heavier, creamier product. However, those with normal or oily skin may want to stick with a lightweight option instead.
Cleansing your face the right way is the backbone of a healthy skincare 101 routine. Take the time to use the right products and techniques to keep your skin happy and healthy.
Apart from this, if you are interested to know about Health insurance in India then visit our Health category.