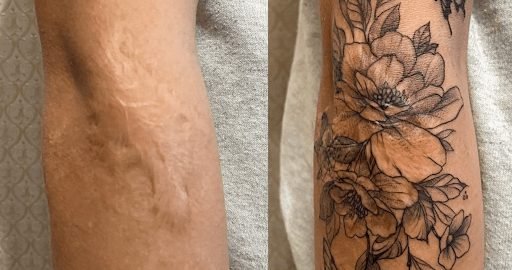 Last Updated on August 18, 2023 by
Intro
Many people decide to get a tattoo over their scars for many personal reasons. Some of them just would love to experience a strange feeling. However, tattooing over scars can be more dangerous than you think.
You have to pay attention to many things about tattoos over scars before and after getting it done. The following information will be similar to a piece of advice for you before coming to your final decision.
Let's find out together!
Can We Get a Tattoo Covering the Scars?
Some people have said that scars are like tattoos. They're marks on a person's body that carry a time and place in life with them. Some say their scars help them remember the good times, while some think of theirs as a symbol of pain or suffering.
It's not everyone's choice to go out of their way to conceal that they were hurt physically or emotionally.
Either way, you shouldn't let what other people think of your skin affect how you want to treat it. Protecting yourself from being hurt or being able to remember something important is what matters most here.
It's important to know that side effects can vary depending on your surgery. You may experience disfiguring results ranging from scarring, hair loss, and nerve damage, or in some cases, your healing skin could even distort the tattoo.
While you may be able to cover up most scars with tattoos, it's not always easy.
After all, scars are damaged and discolored skin, making the scar tissue more difficult for tattoo ink to penetrate. For this reason, it's important to work with an experienced tattoo artist who specializes in creating quality tattoos over older or damaged skin.
Tattoo Over Scars Before and After
If you intend to have a tattoo over scars, you have to consider a lot of things both before and after tattooing.
Before Tattooing
If you're thinking of getting a tattoo to cover up your scars, it's important that you first assess your skin to get the best idea of what would work for you. There are three main categories to which scars belong: hypertrophic, atrophic, and keloid.
If you have an atrophic scar, it will be easy to get a tattoo to cover it. It generally starts with minor treatments such as surgeries, a careless incise, or some light burns. These scars are typically soft and discolored into the skin itself. However, they change as time moves on in various degrees.
The second type is hypertrophic scars. Hypertrophic scars can be described as raised marks or bumps most commonly associated with burns and sometimes found in the aftermath of a surgery.
It takes approximately one year for a scar to heal from its previous form fully: either a burn or surgical incision. Hypertrophic scars will stop growing once this period has passed and will not regenerate any further than that point.
Therefore, it will be better for you to wait until the scar stops growing.
In contrast, keloids are known to come from severe injury and may require at least three years to recover fully.
Though these scars tend to be red, thicker, and spread across the skin's surface compared to other types of scars, they are generally not limited to a smooth shape, making getting a tattoo on top quite challenging.
After Tattooing
First, you must note that a tattoo can not fully cover your scars. And you also have to prepare to get a more painful tattoo. It is nothing compared to the pain that you will get when the tattoo needle punctures.
Secondly, getting a tattoo over a scar is not similar to doing it on natural skin. The shape of the tattoo you want may not be completely different from what you have expected.
Furthermore, it is too dangerous in case you have to suffer from serious physical hurt. If you want to cover the scar near many nerves, it will likely be excruciating soon.
Remember to notice the artist you choose before tattooing. If your tattoo has been done, you need to go to the doctor when there are any abnormal situations. But if you wish to undo your tattoo, you should visit Austin laser tattoo removal  center. Modern technology will make your tattoo go away without causing you much pain and it's very time efficient! 
Conclusion
In fact, we can cover a scar with a tattoo. However, it may be much more dangerous if we don't check the condition before tattooing.
Now, we believe that you have already understood more about tattoos over scars before and after. If you need further information, don't hesitate to contact us via hotline.
Apart from that if you want to know about Tattoo Industry then please visit our Fashion category