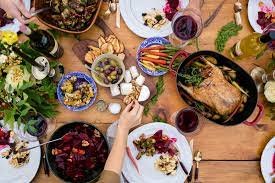 Dinner parties are a great way to flex your hosting muscles, as well as bring together friends and family for an evening of relaxation among delicious dishes.
It's not as easy as simply putting food on plates and serving it all around. There is a certain finesse when it comes to creating the perfect dinner party, one that will have your guests recalling it for a long time and asking for a repeat event.
Set the Scene
Tailor things like décor, place settings, and music selection to the vibe you want for your party. You may decide on a classy, chill evening or a more lively soiree.
Make sure this is reflected in the napkins and plates you use, as well as anything adorning the table like a vase of flowers or candles.
Pick out a playlist that serves as good background noise without being overpowering. After all, a prime point of dinner parties is to get people engaged in conversation. No one wants to yell at the person sitting next to them.
Get Guests Involved
Getting people to interact at the party as opposed to simply sitting around a table to eat can be easily – and sneakily – done.
Set up a table for appetizers that forces people to peruse at their pace to select what they'd like to nosh on.
You can do the same in the way of cocktails, creating a bloody Mary bar that lets guests customize their drinks.
This gets people moving and gathering in small groups, facilitating conversation. It also helps pickier diners add food to their plate that they prefer, letting them shirk things they don't like without making a big deal about it.
Offer Unique Foods
Your guests will appreciate an array of foods, especially if they are interesting and new to them.
Consider serving up snacks like pepper jelly dip, garlic ricotta toasts with hot honey, or figs with bacon and chile.
Not only will this excite their palette, but it can also be a great conversation starter and something for people to bond over.
It also makes the party unforgettable. How many times has a friend excitedly told you about a new dish they tried at a social gathering, long after the party was over?
Make the Timing Count
A well-paced party can make or break the whole event.
Have drinks and appetizers at the ready upon guest arrival so they are engaged from the second they step in the door.
Serve your first course 30 to 45 minutes in, and set aside time for people to not only eat but do so while conversing and actually enjoying the food.
Be more flexible with dessert timing, and set that course out based on what you're seeing once the main course is close to being done.
Send Them Off With A Gift
This can be a tiny, inexpensive gesture, such as a recipe from one of the night's dishes or fresh flowers picked from your garden.
Include a handwritten note with whatever you decide, and watch your guest's eyes light up even as they're departing a wonderful evening.
Read also: How to Host a Great Party: Tips and Tricks for Throwing a Memorable Event