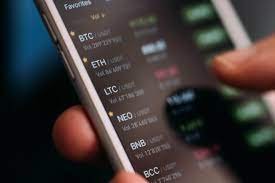 Last Updated on August 18, 2023 by
If you're a trader, it's most likely your dream to buy crypto tokens before they gain popularity and experience substantial growth to boost your return on investment. However, in the present market that provides traders with over 10,000 options, it's challenging to identify the cryptocurrency that is more likely to grow noticeably in value before it starts its ascension.
Suppose you don't want to pick one of the top 100 tokens; how do you choose the digital coin to add to your portfolio? Well, all seasoned traders will tell you that no one can guarantee that a strategy will work, but there are a couple of tips that could increase your chances of identifying the tokens that might rise in the future.
Considering that you read this article, you most likely are looking for a new cryptocurrency to add to your portfolio. Let's unveil the pieces of recommendation that could help you in the process.
Image source https://www.freepik.com/free-photo/stock-market-chart-virtual-screen-with-woman-s-hand-digital-remix_17122465.htm#query=cryptocurrency&position=5&from_view=search&track=sph
Engage in fundamental market research and analysis.
Even if you're a beginner trader, you probably know that the crypto market has had its fair share of speculative tokens, pumps, and dumps over the years. This is why it's essential to research the market to find out more about the crypto projects that promise to bring wealth. Research the project and platform behind the cryptocurrencies you want to add to your portfolio to understand if they have utility on the market.
Let's assume you made a list of new altcoins that show signs of rising prices over the following months. Research each project to learn more about them and how they behave in the market and concerning other cryptocurrencies. You might not be versed in computer science or cryptography, but you can read other seasoned traders' reviews concerning the projects. It's crucial to ensure you're dealing with a serious crypto project before investing your savings. Research should give you an idea of the area the digital coin is operating and who its competitors are.
Don't forget to visit the project's website to find more information about its utility, technology, values, and mission. It's best to pick a crypto coin with a good pedigree if you want to get a return on investment in the long run.
Find more about the cryptocurrency community.
Now that you cut down the list to a couple of crypto projects, it's the moment to find out more about its following because it impacts its success and evolution in the market. Ensure the cryptocurrencies you want to add to your portfolio have a strong community and loyal followers because it shows that traders have a genuine belief and interest in the digital coin. For example, Bitcoin has one of the strongest communities in the sector, and the Bitcoin price chart is proof of it. Even if the market is going through the bear phase, Bitcoin's evolution is better than other altcoins.
So, when you research a project, go through the feedback traders provide about it, listen to podcasts, watch YouTube channels, and run through subreddits, they'll all provide you with valuable information. Suppose you're confused about some tokens and their utility; joining a forum and learning more about their community can help you decide if they're worth investment. Reddit will also help you grasp technical and difficult concepts because experts use the platform to explain them simply for all traders to understand.
Who created the token?
Another important aspect to research is the team behind the currency. Cryptocurrency specialists state that researching and vetting the creators behind a project is a vital step in choosing a cryptocurrency. When you research the team, pay attention to some things:
– Who created the digital token?
– Does the community trust their expertise?
– Do they have experience in the sector?
– Does the crypto have an ambitious objective?
Answering the above questions can help you decide which cryptocurrency is worth your attention because the team impacts its success and evolution.
Check its market capitalisation.
Traders usually rank cryptocurrencies based on market capitalisation to decide which one to put their funds into. Based on market capitalisation, the most popular digital currencies are Bitcoin, Ethereum, Tether, BNB, XRP, Binance USD, Cardano, Solana, and Dogecoin. Bitcoin and Ethereum contribute to over 50% of the market capitalisation, so they're the most profitable cryptocurrencies to have in your wallet. However, if you don't want to invest in an established digital currency and are looking for a new project, make sure you check its market capitalisation and compare it to its competitors.
How many coins can be mined?
It's essential to find out if there will be a limited supply of the cryptocurrency you intend to add to your portfolio because this factor impacts its value and evolution. It would be best if you also looked at the number of coins already in circulation because the scarcer a token is, the higher its price will be. For example, Bitcoin will have only 756,190 blocks, and its demand is growing daily as fewer coins are available.
Read its white paper.
All cryptocurrency projects have white papers that provide essential information about the tokens, like their utility, the purpose for which they were developed, the problems they intend to solve, and the technology used to create them. The white paper should also include information about the creators' vision so you can decide if you share their values. Make sure the white paper seems realistic before investing a significant amount of your funds. You can usually find the white paper on the project's official website.
Understand its underlying technology.
The underlying technology impacts the cryptocurrency's success. Therefore, research what technology powers the cryptocurrency to understand its performance compared to its competitors. You want to add to your portfolio a token relying on technology that stands out from the crowd. Innovative technology has greater chances of disrupting the market and powering a cryptocurrency's success.
How to use these recommendations?
Before you add a crypto coin to your portfolio, check the above tips to ensure your investment has a better chance of growing.
Apart from that, if you want to know about Recent Bitcoin Crashes then please visit our Digital Marketing page