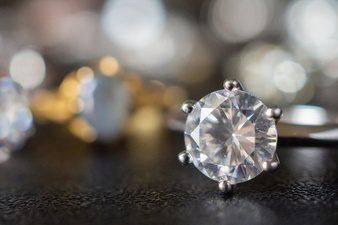 Last Updated on August 17, 2023 by asifa
Buying engagement rings can get very overwhelming. With so many designs and options in the market and upcoming trends every few months, it can be a tough choice. Also, you need to consider your budget. Keeping all these in mind, we have come up with 5 very important and useful tips to help you buy the perfect ring for your big day. Engagement rings are meant to last a lifetime and as a symbol of your love, they simply have to be the right one. Here's how you can land the best ring for you.
Get measured correctly
The first step is to get measured correctly and multiple times. We are likely to put on or lose weight before many times in a month. So make sure you get measured correctly at the jeweller's store before you start looking for designs. If the jeweller has your correct measurement then it gets easy for them suggest designs and work on any additions, etc.
Know the 4C's
When it comes to selecting any diamond jewelry, the 4C's are what you need to know as the basic prerequisite.
Cut: Diamonds are available in various cuts such as princess cut, emerald cut, cushion cut, rectangular cut, etc. It defines the edges and shape of the diamond.
Colour: Diamonds are not just plain transparent. They come in various colours such as red, pink, blue, green, brown, yellow, black, violet, etc.
Clarity: Diamonds often have internal flaws, blemishes and impurities that can be checked only under a magnifying device.
Carat: Diamonds are measured in carats. It is the measure of their physical weight.
Select the diamond shape that suits your finger.
There are many diamond shapes, but not all are suitable for everyone. A ring looks better on a finger if the diamond shape suits the finger. There are long, stubby, thin, fat, short, and all kinds of fingers. Although a round cut looks best on most fingers, here are a few more types that you can select according to your finger size and shape:
Oval and pear-shaped diamonds look good on chubby fingers.
Rectangular diamonds flatter long and slender fingers.
If you have smaller and delicate fingers, then choosing a delicate diamond is a good idea. It won't overwhelm the look of the hand and enhance the fragility of the fingers.
Check the certification
Always check the grading and certification of the stones if you choose a studded ring. Make sure the certificate matches the diamond or any other stone mentioned. Read it well and then make the decision. If you visit the jewellersinHatton garden engagement ring, then you don't have to worry about the purity. All stores there are absolutely reliable and the heart of London's jewellery shopping.
Negotiate the price
Everyone knows that engagement ring London can be well overpriced. You don't have to agree to any price that is thrown at you at the first instance. Do your research and only go to reliable stores that will help you select well within your budget. Know the ongoing jewelry rates for stones and metals in the market. Don't forget to inquire about any seasonal discounts or ongoing offers.
Perfect Engagement Ring in London
When it comes to buying an engagement ring, it's important to take the time to find the perfect piece that truly represents your love and commitment. Here are some more tips to help you make the best purchase in London:
Determine your budget: Before you start shopping, it's important to have a clear understanding of what you can afford. This will help you narrow down your options and ensure that you don't overspend.
Know your partner's style: Take note of the jewelry your partner already wears, as this can give you a good idea of their personal style. You can also consider their taste in clothing, home decor, and other aspects of their life to get a better idea of what they may like.
Choose the right metal: Engagement rings come in various metals, including gold, platinum, and rose gold. Consider your partner's skin tone and personal preference when selecting a metal.
Decide on a diamond shape: The most popular diamond shapes for engagement rings are round, princess, cushion, and oval. Take your partner's style and personal preference into account when choosing a shape.
Shop around: Visit various jewelry stores in London to see various options and prices. Don't be afraid to ask for a discount or negotiate on price.
By following these tips, you can be confident that you're making the right choice when buying an engagement ring in London. Remember, the most important thing is choosing a ring that represents your love and commitment to your partner.
It is easier if you're buying the ring for yourself, but if you're buying it for your partner, then one more thing to consider is their personality. Make sure you get something that is according to their likes rather than what you think is pretty. To get an idea of the different styles and designs of the rings that you can choose from, you can visit online stores like adinaeden.com and browse through their collections. The rest of the tips remain pretty much the same. All the best for your shopping.
Read More: 5 reasons to select lab diamonds for your wedding