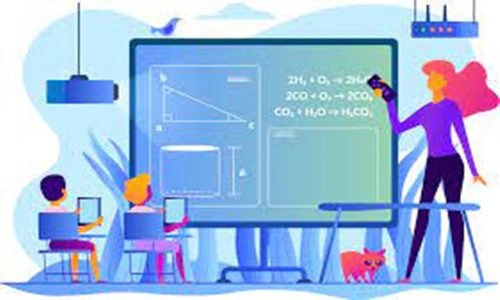 Last Updated on August 11, 2022 by
Want to establish a career as a teacher? Looking forward to upgrading your teaching skills? The best way to do either is to pursue teacher training courses in India. These courses will help you learn different teaching skills at your own pace and schedule. If you are wondering which teaching course to enrol in, we have compiled a list of teacher training courses in India. 
Delivering Teaching & Learning Online:
During the pandemic, almost every educational institution delivers education to the students in a hybrid or online mode. By hybrid mode, it implies using both offline and online methods to deliver education. This specific course has become one of the most important online teacher training courses in India as it prepares candidates to teach a class online or use hybrid mode. You will learn different techniques and tips to design instructional content, assessments, and activities to help you succeed in your online teaching endeavours. Also, you can learn different ways to engage with the students during online classes, thus helping you deliver interactive learning.
Professional Certificate in Teaching and Learning (PgCTL):
Professional Certificate in Teaching and Learning (PgCTL) is a UK 6-level school-based teacher qualification, which is specially designed to help the educators, already having expertise in the particular subject, to accelerate their professional growth. This particular teaching course equips the educators with the required knowledge, skills, and competence which further let them succeed in their teaching career. Through the PgCTL course, you can learn different strategies and methodologies required for delivering modern education. Not only this, but during this particular course, you will also learn exceptional things, including classroom management techniques and theories, emotional intelligence, creative thinking skills, creating and assessing the assignments, etc.
Learning Theories and Teaching Strategies:
Now that the curriculum of schools is frequently updated, teachers are also required to change their teaching methodologies to keep up with the change. Enrolling in the learning theories and teaching strategies will help you to stay updated with the latest syllabus and teaching methods. Here, you will learn not only different learning theories but also ways to implement them in the classroom. You will come across multiple instructional methods and strategies, including gamification, e-learning, etc., helping you to deliver interactive lectures. Also, this course will enhance your creative thinking skills allowing you to tailor your teaching style according to the learning requirements of your students.
How to Manage Online Classroom?
Looking for ways to manage online classrooms? This particular course is specifically designed for the teachers having requirements similar to you. Here, you can learn how to effectively manage the online classroom and prepare the schedule to deliver timely online lectures. It can be difficult to manage assessments of students during an online class. This course will equip you with managing online assessments and exams. Apart from this, you can also learn the usage of the necessary technology to enhance the learning experience and get online feedback from parents and students, including ways of using podcasts, video calling platforms, and other digital tools.
Lesson Planning:
Only a teacher can understand the importance of lesson planning. It is effective lesson planning that helps teachers deliver engaging and interactive lectures in the classroom. This particular course will teach you different learning styles and approaches that are hard to learn during any other teaching course. Spending hours for planning lessons is a sheer wastage if they are not delivered as planned. Therefore, it is important to plan lessons and deliver them accordingly to also contribute a lot when it comes to effective learning. This specific online teaching course understands it and thus, works on improving the skills of the candidates so that they can create and deliver lesson plans.
Reflective Training:
This tops the list of the best teacher training courses as it helps the teachers to reflect upon their teaching strengths and weaknesses, style, skills, and strategies. This particular course involves a series of group discussions where candidates are asked to share their opinions on the topics related to the teaching subject matter, and then these candidates are provided with their instructor's feedback. At last, candidates are asked to analyse their strong and weak points based on the received feedback. This reflective training course is specifically designed for elementary and middle school teachers but can also be pursued by high school educators. Now teachers can easily identify their teaching styles, and thus, frame effective teaching strategies for their students.
Questioning Skills and Techniques:
Questioning skills and techniques contributes a lot to framing assessments and exam papers. Many teachers are aware of the concepts, but when it comes to asking questions or answering them to the students, they fail to do so. This specific online teaching course is designed for educators who are looking forward to refining their question skills and techniques. Through this course, teachers can learn multiple ways to prepare questions. Not only this, but they will also learn how to ask questions to the students that prompt critical thinking and encourage engaging discussions.
Using Technology for Teaching and Learning:
Now that technology is evolving, it has become important for educators to keep track of the latest technology being used in educational institutions. They are required to learn all computerised programs helping them to enhance the delivery of the lessons in the classrooms. Here, educators can easily learn different technologies allowing them to create interactive content and engaging classroom activities. This course will also provide you with hands-on experience, letting you understand the usage of technology in real classroom settings. Nowadays, states have their Edtech laws and policies. With this course, you can learn about the same so that you can efficiently integrate technology in classroom learning.
Wrapping Up
Whether you are looking forward to developing a career as a teacher or just want to refine your teaching skills, the above-mentioned online teaching courses are a great way to build your portfolio as an educator.
Read more: How Does Online Tutoring Work?