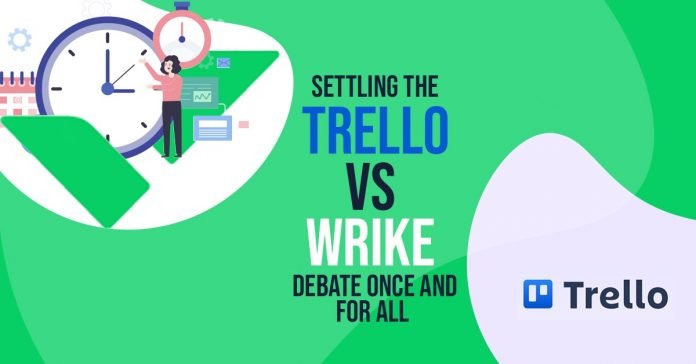 Last Updated on August 17, 2023 by asifa
Project management solutions can be used to plan, organize, and allocate resources for various projects. They help large teams collaborate and keep track of all project activities through clearly defined processes. A reliable project management software should enable smooth collaboration and empower businesses to deliver work on time. They should be able to keep everything organized and deliver an overview of all tasks so users can prioritize them accordingly.
However, there has to be an objective comparison of the multiple commercial software to help businesses make the right choice. This article looks at Trello project management vs Wrike project management. and all its features to help determine which one is the better option.  
Trello Software
Trello project management is a project management solution that can be used to plan, organize, and assign resources to different tasks. It can be used to collaborate and keep track of everyone's responsibilities. The project manager has more control over the activities, expenses, and quality of deliverables with streamlined processes. It also helps ensure that all stakeholders are on the same page.
Remote Work
Remote work is now more popular than ever and it should not affect the output of project teams. Trello makes it easier to manage employees signing in from different locations all over the world. It becomes easier to communicate and discuss each aspect of the project using comments, likes, and other features.
Task Distribution
One similarity between Trello project management vs Wrike project management is that they both allow managers to assign tasks in order to maintain project efficiency. It is easier to delegate responsibilities to members because the software displays their current workload and availability.
Document Management
Trello project management makes sharing documents and accessing files easier because everything is stored in one place. The shared drive is much more practical since teammates do not have to request files or go through their emails to find one. They can also make real-time changes, add feedback or annotate documents without a problem. The changelog keeps track of all the document versions to maintain transparency.
Software Integration
Most projects are dynamic and their requirements continue to change which means the software should also be flexible. The integration options included in Trello help synchronize all data and continue to increase functionality. Team members do not have to switch between windows which can severely reduce productivity.
Risk Management
One difference between Trello project management vs Wrike project management is that Trello can help identify potential bottlenecks or sources of delay much earlier. Managers can receive key insights and create contingency plans for all potential risks. This strategy is effective for risk management and can also help prevent through smarter decision-making.
Budgeting
Projects are required to follow a strict budget and in order to manage every resource, the team should keep track of the expenses. The best way to follow the prescribed budget is with the use of an efficient financial management solution. Trello helps monitor all costs and can be used to reduce the chances of scope creep.
Wrike Software
Wrike project management is a project management solution with several features to automate processes and fast-track progress. It has all the standard functions that increase transparency amongst teams and gives managers the ability to track every team member's performance. These modern tools are part of a single platform that assists with every phase and task. Wrike includes dynamic views, graphical reporting, and multi-dimensional analytics.
Project Templates
When comparing Trello project management vs Wrike project management, it is important to note that the latter offers a wide variety of templates to help standardize processes. It ensures that all activities are performed at optimal efficiency and helps organizations handle all their units. The built-in templates facilitate scheduling, cost monitoring, approval workflows, task dependencies, visualization through Gantt charts, reporting, and analysis.
Workflows
The software includes a project management plan framework that has all the necessary workflows needed to complete certain stages or phases of the project. The users can follow a series of steps in the correct order and make sure the person responsible for the dependent task has completed their part. Streamlining the workflow can help achieve key milestones on time and result in meaningful contributions from everyone. Wrike project management makes sure that all automation needs are taken care of.
Customization
Each project has specific needs and Wrike makes sure that those requirements are met by the platform. Managers can add unique fields in their forms, templates, and processes to keep everything in order. They can customize or modify the existing fields as well and autofill the information that remains the same for all processes.
Reporting
One area where Wrike emerges victorious in the Trello project management vs Wrike project management debate is reporting and analytics. The software can help generate reports specific to users or groups with clearly states objectives. The reader can follow all the proceedings in the form of a graph, chart, or table. The software uses Gantt charts to help visualize project schedules and clearly label all images to make a bigger impact. The built-in reports are generic and save users a lot of time when preparing presentations.
The project owners can also use them to track the overall performance because they get key insights into all relevant KPIs and OKRs. The tool supports the generation of data in specific formats that can be shared with all stakeholders.
Collaboration
Project teams have to constantly communicate with each other and team collaboration plays a big role in the project's success. Wrike helps streamline the flow of information to make sure everyone is on the same page. There is a built-in chat tool through which the entire team can find immediate answers to questions and also tag the relevant people. The instant notifications sent to the user also informs them of any upcoming deadline or whenever a task is complete.
Conclusion
The only way to choose the best project management software is by doing a side-by-side comparison of all the possible options. The Trello project management vs Wrike project management debate concludes with the fact that both platforms deliver unique benefits to users. As long as the buyer knows what their requirements are and does the research, they will be able to find the best deal.
Read More: 6 Fun Ways to Promote Your Business.