Last Updated on May 1, 2023 by
It is common for a small business entrepreneur to remain busy in different directions throughout the day. From the management of employees, payments of bills, making business decisions to the purchases of business, recording transactions, and maintaining financial documents, a business owner does not find enough time to focus on the other important aspects of the business. In between managing all these tasks, the real goal of growing the business and earn profit vanishes. In this situation, you need to outsource a bookkeeper for your small business who is well acquainted with bookkeeping services info.
Following are some apparent benefits of acquiring a bookkeeping service.
Basic Operations of Business
A businessman is not supposed to do paperwork throughout the day. If he remains busy filling forms, recording the transactions, and managing accounts, he will hardly find time for decision making and strategy designing. A businessman should be a decision-maker and an operations manager. When an entrepreneur outsourcing bookkeeping services for a small business, it frees him off from the extra burden of work, and he starts focusing on business operations. When you find more time to focus on business matters, the business automatically grows in days. In this way, a bookkeeper helps you pay attention to your business by handling all the paperwork.
Tax Benefits
Small businesses can face many tax penalties if tax returns are not filed on the due date or if there is any mistake in filing returns. Small business owners handling many things at a time, and filing return is a critical task. It takes complete attention. Hiring a bookkeeper means freeing up yourself from the burden of tax matters. As it is the job of a bookkeeper, so he keeps all the documents prepared before the due date. He submits the documents on time. The service provider knows various ways for tax deductions.
Budgeting
A poorly design budget plan leads to a loss in business or a deficit budget at the end of the year. When there is no planned budget to limit business expenditures, you overspend the business's financial resources. A bookkeeper is one who has expert knowledge of budgeting. He records all the income and expenditures of the business and analyzes the current situation of the business. By keeping in mind the business's financial state, he gives his professional advice in the budget-making to save the business owner from any future loss.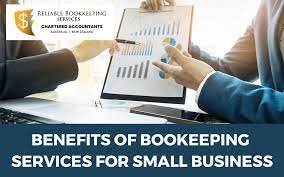 Financial Decisions
Bookkeepers maintain the financial reports every month. Whenever you want to take a big decision for your business or making a new deal, these reports will guide you throughout the process. These financial reports represent the actual financial condition of the business. Investing without overseeing the financial statement of business can piss you off with the burden of a loan. The bookkeeper keeps you updated about the present financial budget so you can act accordingly.
Relations with Suppliers
When you work with an outsourced bookkeeper, your accounts payable accounts always work horizontally. The bookkeeper doesn't pile up the invoices on his table. Instead, he makes the payments clear and invoices paid on time, which improves the business relationship with its accounts payable. When all the bills are paid on time, it builds a healthy relationship between business and suppliers. Suppliers know that they will get their payments on time. This gives them the confidence to sell your products on credit.
Detailed Financial Reports
Usually, a business has to hire an in house accountant to make financial reports of the business. These accountants demand high salaries for their services. For a small business, this becomes a monthly burden to pay a high amount of salaries. When you outsource bookkeeping services in London, you benefit from having monthly financial reports of the business. Bookkeepers do not only enter the financial data of business, but they save your money by preparing financial reports like profit and loss statements, balance sheets, and cash flow statements. They also interpret the statements and analyze the business financial state.
If we sum up the importance of bookkeeping service for small and medium enterprises we can say that no matter how much experienced a businessman you are, you will have to hire a bookkeeping service for an effective cost-saving strategy and to grow your business in the market. For this, we at 101Accountant available to provide you the best bookkeeping and accounting services in the UK. We are authorized and certified service providers. We have the experience of working with many small enterprises that were struggling for their survival.
Apart from that if you want to know about Self-Assessment Tax Returns Advise then please visit our Business category.