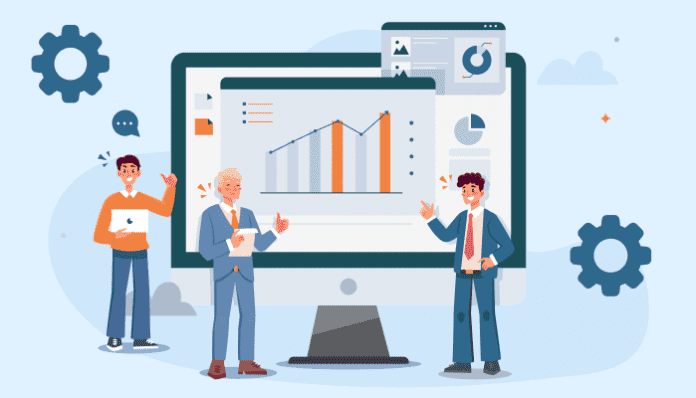 Last Updated on August 17, 2023 by
Managing a construction project can be quite a difficult task, irrespective of how experienced you are in the industry. A construction project management software often includes a wide range of processes that have to be strictly monitored in order to get the desired result.
Without the right tools, in this case, capable BIM construction management software, doing so can be quite overwhelming for any project manager. 
If you are yet to learn about construction software or are contemplating using one, this article is a perfect read for you. Here mentioned are the different stages construction management software can help you with.
What Are The Different Stages Of Construction Project Management?
Using software for construction management comes with a number of features and aids. However, one of the most important and notable ways it helps is by allowing the contractors and builders to visualise project schedules and plans. Here is how you can use such features in the different stages of your construction project management software.
Design:
Designing is one of the first and most important parts of any construction project, and any lapse in this stage can hamper your entire project. This is why you should ensure that this process is done with due diligence.
To ensure the proper design of your project, you should have a clear concept, defining the goals and objectives of your design. With construction management software, you can build a more schematic design outline, helping you better plan the floor plans, elevation materials, and colours.
Preconstruction:
Preconstruction is the next stage which begins right after the design has been approved. In this step, the project manager or lead gets assigned to the project. You also have to get a contract administrator who will help the manager.
However, with building construction software, most of the contract administrator's duties can be delegated. You can easily keep track of inventory, equipment, deliveries, workforce, and other construction activities.
Procurement:
Now that all stages and planning are already over, all you have to do now is gather the materials required for the construction to start. This stage requires you to work on different purchase orders.
For any construction project, large or small, managing several work orders can be a handful. This is when building construction software can come in handy and help you manage all such information under a centralised source.
Construction:
Finally, the last stage of any construction project is the construction itself. In this stage, the project manager has to supervise quality control, work hours, and site access.
Hence, this stage involves preparing intricate work orders, scheduling different payments, and ensuring a smooth flow of the entire construction. With building construction software, all these processes are easy to manage, and the manager can have a detailed overview.
The Latest Trends in Building Construction Software
The overall construction project management software is growing a lot faster than expected and is estimated to grow 13.7% this year. The APAC region is one of the most notable sources driving this growth, specifically in the Chinese and Japanese markets.
Another factor that is expected to aid the growth of this market is the utility sector. This will include mostly gas and oil construction projects, as the use of such software has been quite effective in this sector. The software has popular use in maintaining all kinds of gas and oil plants.
The majority of construction companies using this find its quick cost-determining abilities to be most helpful. Next, it can help your project take off more efficiently and also ensure better accounting and project tracking.
With such immense demand for such products, you can expect more mobile versions to be launched. In addition, most service providers are also planning to improve cross-platform capabilities, find newer cloud-based solutions, and much more. Simply put, there are a lot of ways using building construction software can help your project.
That said, all of this is only possible if you choose the best service providers. Make sure that you take ample time to research the ruling powers in this industry. Customer support and feature-rich software should be your main priority. Checking all the right boxes, a company that can surely help better your project management is Signax. They have some of the best reviews in the industry as well.
Apart from this, if you are interested to know about Grow your Business then visit our Business category.