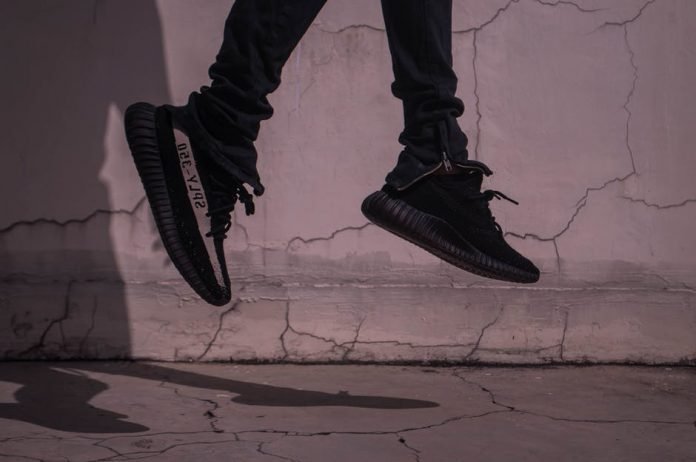 Last Updated on August 13, 2022 by
If you're a young sneakerhead, you might have an idea of what the best sneakers are. You might be aware of Nike and Adidas, New Balance, and Vans. And you've probably even heard of Yeezy's before.
But if you haven't been around the block for too long, you might not know why Yeezy sneakers are so special. They aren't just another sneaker brand. But there's a very notable figure and story behind the brand, that gives these shoe context in the greater sneaker world.
Knowing what makes a sneaker brand so unique is an important factor in purchasing the right shoes at the right time.
So where did Yeezy shoes come from? Read on below to learn all about the history of Yeezys and why you should probably buy Yeezys this year.
The Man, the Myth, the Legend
For years we've known him as Kanye West. Born in Atlanta and raised in Chicago, Kanye West is the rap star's birth name.
He spent years working in the music industry before creating his own music. But knowing he was meant for something more, he wrote and released a record called The College Dropout way back in 2004.
The album was a hit, and Kanye West went on to release nine more albums since then, becoming a global icon in the process.
His album, the life of Pablo, contained a line that is important to the Yeezy sneaker brand. "Yeezy, Yeezy, Yeezy just jumped over Jumpman" referred to himself, and either Michael Jordan himself or the Jordan shoe brand.
His 2018 album was titled "Ye" which is now the rapper's official name. Along with countless successful albums, Ye is a fashion designer. He has also started his own music label and media company.
Oh, and did we mention that he also ran for president during the 2020 election?
Ye currently leads up the brand called Yeezy, a sneaker brand produced by Adidas. But Yeezy wasn't his first foray into shoes.
Ye and Nike
Before the modern Yeezy brand was born, Kanye West, as known as the time, collaborated with Nike in 2009. He was the first non-athlete to have a shoe deal with the footwear brand.
There were two pairs released under the partnership, the Air Yeezy's and the Air Yeezy's II. They had a similar feel to the silhouette of Nike Air Jordans.
The shoes were originally released for a price between $200 and $300 and sold out immediately upon release. The resale value for both of these pairs is very high.
Unfortunately for Nike, Kanye didn't continue the partnership. The footwear giant refused to pay Kany royalties on his shoe brand. The CEO also refused to speak to Kanye on the phone, as he didn't much care for the Yeezy brand.
Kanye had great things to say about Nike and the people that made up the team. He just couldn't find his place within the company.
After this short-lived partnership, Kanye dove headfirst into fashion. He moved to Rome to become an intern at the Italian fashion brand, Fendi. This was during the same time that Off White founder, Virgil Abloh, was undergoing the same internship.
The two developed a lifelong partnership, as Virgil became the creative director of Kanye West's creative studio, Donda.
Yeezy and Adidas
In 2013, shoe history was made when Kanye partnered with Adidas to launch the Yeezy sneaker brand. Kanye said that he was able to call the CEO of Adidas at any time on his cell phone, while the CEO of Nike wouldn't be bothered.
Adidas was willing to work with Kanye to actually build something new, not just launch one or two shoe pairs based on hype.
The first pair that the team released were the Yeezy Adidas Boosts. The initial run was limited to 9,000 pairs, and could only be obtained in New York City if you used a specific smartphone app.
A larger drop was soon released across the world at select retailers. In 2016, Adidas and Yeezy officiated a long-term partnership. Not only would Yeezy's be widely available, but they would enter the sports world as well.
Yeezy developed into a full-on apparel brand, producing far more than just sneakers. But the sneaker asp[etc of the business proves to be the most influential.
The new sneakers put out by Yeezy every year stretch the imagination of consumers and fashionistas alike. Every year, the designs receive mixed reviews. But no one can deny the fact that Ye is pushing the envelope forward and changing the direction of the footwear and apparel world.
Notable Yeezy Sneakers
Aside from the original Yeezy Boosts, we have seen some remarkable shoes come onto the market from Ye.
The second shoe that they put out was the Yeezy Boost 350. These shoes featured a low-top silhouette for a more casual appearance. They were very comfortable due to the Adidas Prime knit technology. Four colorways were ultimately released, all of which were loved.
Next up was the Yeezy 950, a boot that resembled the outdoor form and function of a military boot. Then they released a few variations of existing shoes, modifying them slightly to create some V2s.
Yeezy also started putting out athletic shoes geared towards running and light sports activities. The Yeezy slides are very comfortable, slip-on shoes for both men and women. Learn more about how why these shoes were such a hit here.
Next up is a phase that some people loved and some people hated; the dad shoe phase. The Yeezy 500 and 700 were sneakers that resemble the simple athletic shoes your dad wore when you were growing up.
But of course, these were high-fashion dad shoes. But they weren't all that valuable. They didn't use high-tech performance technology, like in some of the higher-end Adidas shoes.
Nor did they launch with limited runs of the shoe. This led to low resale value. Still, they are very popular and the favorites of sneakerheads that care more about wearing sneakers than collecting them.
Yeezy Is Paving the Way Forward
Yeezy is changing the sneaker and the fashion game every single year. But they don't even consider themselves a fashion brand. Yeezy sneakers are simply part of an apparel company, creating approachable products that anyone can wear.
Yet they are pushing the industry as a whole into the future.
Looking for more news in the fashion industry? Visit our blog now to find other hot articles.
Read more: Harry Potter Rings.