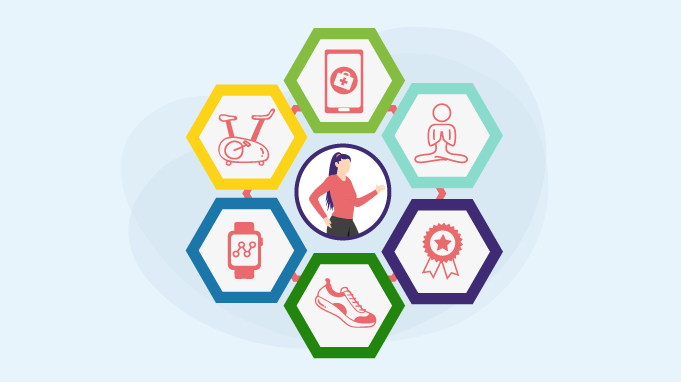 Last Updated on August 15, 2022 by Umer Malik
You will be shocked to discover how many free or low-cost wellness programs are available these days for employees. Insurance companies and businesses would most likely want their employees to be healthy. Why? Because healthy employees have fewer absences, less insurance claims, and perform at work better.
Ask your human resources department if your company offers corporate wellness program.
Different Kinds of Wellness Programs
Fitness Programs
An estimated 2/3 of adult people are either obese or overweight in the United States. The data is according to the Centers for Disease Control and Prevention.
Companies should help employees maintain a healthy weight, improve their strength, and improve their muscular endurance. These will reduce their chance of having diseases. A healthy weight also reduces health problems such as heart attack, stroke, back pain, and diabetes, which can all affect performance.
Some Businesses offer different fitness programs for groups or individuals. This may include memberships for fitness centers or gyms—rebates or discounts on exercise equipment, on-site gyms, and employee workout classes.
You can request a weight loss competition or fitness competition at your company. That will improve the teamwork, productivity, and morale of the employees.
Nutritional Programs
Most of the time, businesses or companies will offer classes about nutrition. They can provide a healthy menu in the company's cafeteria, offer educational materials, group seminars, and one-on-one counseling sessions.
You can check your company's insurance provider website. Look for nutrition areas for the employees. Your company might even have a registered dietitian in charge of lectures or seminars about nutrition.
Smoking Cessation Programs
Companies or businesses are spending more money on employees who smoke more than employees who do not smoke. They spend more than $1,300 each year, according to CDC. And there are a lot of companies that pay for programs to encourage employees to stop smoking.
Many companies even partner with licensed dentists to help employees attain improved dental health. These dentists can lecture employees about the dangers of excessive smoking and how it can affect their teeth in the long run.
Insurers are more likely to be interested in smoking cessation programs. And are more likely to offer low life and health insurance to those who join the program. You can ask your company if they offer programs for employees who want to stop smoking. If they currently do not have such a program, you can suggest it and be a volunteer.
Maternity and Pregnancy Programs
New moms can boost a company's costs both after and before giving birth. Many firms offer pre-and postnatal therapy. Since a healthy mom and baby reduce absenteeism and increase productivity.
Suppose your workplace doesn't offer a formal prenatal health program; see if your insurance company can help. If your company hires a lot of ladies but doesn't offer one, you can suggest pregnancy program benefits. Lastly, work with the employer's insurance provider to set out the benefits and costs.
Why are wellness programs important?
Mostly, wellness programs are offered and sponsored by employers, companies, or businesses. Its primary purpose is to improve the health and wellness of its employees. They are designed to prevent illness, anxiety, stress, and other physical and mental illnesses. Those could negatively impact the productivity and well-being of an employee.
Most employers fund memberships at the gym. They also support wellness programs to encourage employees to quit smoking. A healthy workplace gives employees the impression that their employer cares about their health, driving them to do better at work.
Identifies Health Problems Earlier
One of the importance of wellness programs is that they are a great tool to identify an employee's possible health problems and diseases. Some programs might offer on-site screenings. These can detect different types of cancers, diabetes, and hypertension.
Some companies offer programs that encourage their female employees to undergo check-ups or seminars for breast cancer.
These types of wellness do benefit not only the employee but also the employer. It not only ensures that employees are in good health and good performance. It also reduces medical costs.
Promotes Healthy Lifestyle
Prevention and identification of disease isn't the only benefit of wellness programs. It also promotes a healthy lifestyle, aside from smoke cessation programs. A lot of companies or workplace offers lifestyle coaching programs. Some offer educational programs for nutrition, sleep problems, stress management, and weight loss.
They also provide tools and information such as educational resources online and seminars about maintaining a healthy lifestyle and achieving fitness goals.
If you are working in a company and haven't thought about joining some health and wellness programs, it would be ideal to start searching now. Ask your company for their available programs and choose what suits you. It does not only benefit you but also the company you are working for. Remember, a healthy employee will contribute a lot to a healthy workplace, so do your best to stay healthy and fit.
Read More: Smart Home Devices That Make For the Perfect Gift.