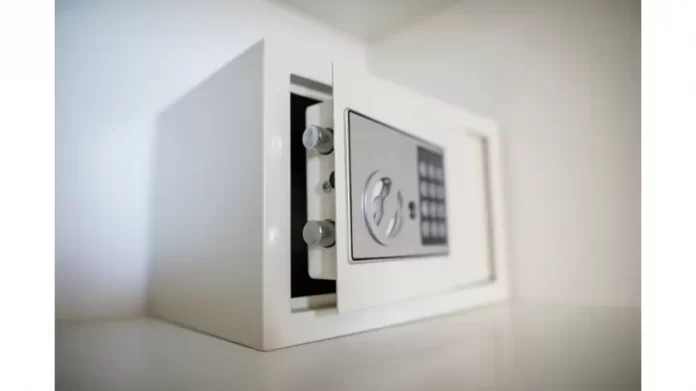 Last Updated on August 18, 2023 by
Is it your company's ethos to 'go green?
There are a number of things you can do to reduce the size of your carbon footprint – like recycling more and switching off the lights.
However, even if your business has opted to go paperless, it's likely that you will still have some irreplaceable documents, such as tax returns, certificates, personnel files, contracts and invoices. All of these things are crucial to your business operations and must be protected from fire damage. And the best way to protect them is to lock them away inside a fireproof safe.
Let's take a look at what you need to bear in mind when buying a fire-resistant safe and where you can buy one from.
4 factors to consider when choosing a fireproof safe
1. What items do you need to store?
Before you decide which fireproof safe to purchase, you need to think long and hard about what needs protecting against fire. This will not only help you to establish what size safe you need but it will also allow you to choose one with a suitable fire rating.
For example, if you have physical documents, certificates or receipts, you'll want to opt for a fireproof safe that's designed especially for paper.
Alternatively, if you need to keep digital media secure (i.e. USBs, DVDs, and backup tapes), a fire safe for data will be better.
2. How big does the safe need to be?
The safe size typically depends on what you intend to store in it.
If you need to protect numerous large files against fire, remember to keep in mind the height and width of each folder to ensure they will all fit neatly inside.
As a general rule of thumb, opt for a fireproof safe that's slightly bigger than you need. Although a smaller model will cost you less, you can trust that you'll be able to add or remove items as your needs change in the future.
3. What lock type is best?
As if choosing a fireproof safe wasn't hard enough, they are sold with various lock types – including key locks, combination locks, electronic locks and even biometric fingerprint locks.
Most safes are fitted with a high-security key lock, which is the cheapest option. However, if you're someone who is always losing keys or forgetting what you've done with them, you may prefer a safe with an electronic or combination lock.
A mechanical combination lock is where users turn the dial to input the appropriate code, whereas an electronic lock requires users to tap in a 4-6 digit PIN on a keypad. Both of these lock types provide a convenient alternative to carrying keys around and can be helpful in environments where multiple people need to gain access to the contents of the safe.
Alternatively, fingerprint locking (biometric) fireproof safes are the most secure option available – unique to your biology. With these, you don't need to remember keys or codes, you simply place your finger over the reader and the safe door will open. They are, however, the most expensive type of safe lock.
Read More: How to Create a PRINCE2 Marketing Campaign
4. How much can you afford to spend?
A safe can set you back anywhere between £50 and several thousands of pounds, depending on its size, lock type and features.
Those that offer greater protection against fire and burglary tend to cost the most – but you can trust that your documents and data will be in safe hands should a fire break out.
Whilst there are safes to suit every budget, you need to consider how much you can realistically afford to splurge.
When shopping online for a fireproof safe, use the filters to help narrow your options down. Sort the results from low to high, revealing the cheapest safes at the top of the page and the more expensive ones towards the bottom.
Read More: How to Build an Effective and Engaged Global Business Team
Ready to buy a fireproof safe?
When investing in a fireproof safe – either for your home or business – it pays to go to a reputable supplier who can provide you with the advice and guidance you need.
eSafes are security specialists and stock an extensive range of fire safes. They guarantee some of the most competitive prices around, allowing you to purchase top-quality security products without spending a fortune.
To find out more about the safes they supply, or for help choosing the best safe for your needs, call 0800 783 2328.
Read More: Prince2 Project Management Weekend