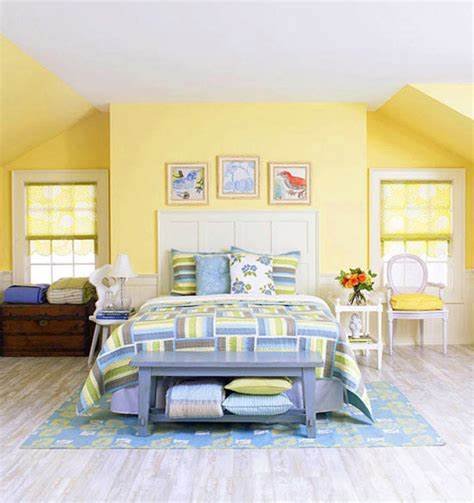 Last Updated on August 18, 2023 by
Did you ever find it difficult to leave your bed in the morning after waking up? We all can admit that we did. Who doesn't like cuddling in the cozy bed? It is not easy but you can add fun to your waking experience by making your bedroom look vibrant and colourful. Colours and light have always proved to affect the mood of a person. Even though a bedroom is the most private space and our visitors do not have access to it, that is mostly used by us. Therefore, it is essential to make it restful and enjoy its soothing embrace every night.
Creative Designs on The Walls with Paint
Are you tired of gazing at your white or plain and empty walls? Transforming the appearance of the wall can be done just with a few strokes of paint. Bedroom wall painting is the quickest way to reinvent the bedroom giving it a stylish finish. Along with adding to the décor, this creative design will delight your mind making it productive and help you to stay focused. You can try out the following creative designs and jazz up your personal space –
Give a Romantic Touch to Your Space – For a couple, a bedroom can be the apt place to keep their love life alive and refreshed. You can pick up some sultry wall colours that will spread a romantic vibe across the room making you feel loved and cared for. You can try out the different shades of raspberry pink which will add a subtle charm to the room. You can even pair this colour with blue or purple to elevate the appearance making it look royal and cozy.
Addition of Texture to the Wall – Colours can add wonders to your walls. However, along with the colour, introducing the texture livens the space adding dimension and depth to the walls. The Royale play design adds some special effects to the walls like dapple, canvas, crinkle, spatula, raging, brushing, combing etc. You can try some amazing designs by exploring a variety of designs available as per the furniture and other accessories of your home.
Infuse Some Artwork – Artwork is always eye-catching and appealing. It grabs your attention towards that wall displaying the artwork. This is a great option to add some fancies and make your room look cheerful and vibrant. If creativity is your passion, you can go ahead with the mural paintings and add some floral or artistic visuals to your space.
Feel The 3D Effect – Everything lies in the power of imagination. Bring in some 3D effect to the walls of your bedroom. You can find the limitless designs which you can portray on your walls. There are amazing patterns and abstract combinations that will help you choose the design that you so much like.
Read more: Which One To Choose: Aluminum Vs. uPVC Bifold Doors?
A honeycomb mirrored wall is a great choice to uplift the look of the walls. You can try this design by using any light colour. Then pair them with matching pieces of furniture and accessories for an elegant appearance.
If rustic is your style, you can go for the wooden and brick patterns combo design that adds a wonderful personality to your space. This design goes well with artistic crafts and showpieces. Therefore, ensure that you pick up the right pieces of accessories to style your space.
Revamp your bedroom by choosing any of these designs and recreate your personal space adding passion and peace to it. The simple trick for a wonderful space is to pick up the colours that fascinate you along with its different hues blending them with complementary colours. This will make your bedroom look full of energy and cheerful.
Read more: The Latest Bedroom Design Ideas That Homeowners Are in Love With