Last Updated on May 11, 2023 by
Some of the best experiences of traveling to scenic and picturesque places will be through riding on motorcycles without a doubt. Traveling on a motorcycle takes the entire experience to a different level because you get to connect with nature and the external world around you in a way you can't when you are traveling on a car, bus, or a train; the experience on a motorcycle is surreal.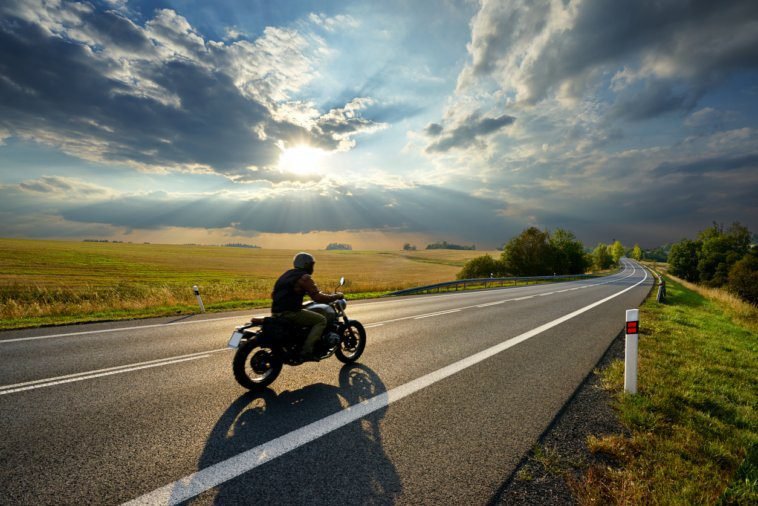 Most motorcycle enthusiasts are so invested in the experience because usually, they bond with other motorcycle aficionados who understand the beauty and value of owning a motorcycle better than anyone else. To have a social group of friends with a mutual interest gives you a pretty good reason for bonding and investing in things you are interested in.
There are many other advantages of owning a motorcycle if you think about it! For example, motorcycles can easily pass through narrow roads and situations where the traffic is really bad because the physical body of a motorcycle is so lean. Secondly, motorcycles are quite inexpensive to maintain compared to bigger four-wheeler vehicles; the gas expenditure is cheaper and so is the maintenance of the engine, oil, and water. The equipment for motorcycles although come in all kinds of prices but it's easier to look for cheaper alternatives.
Motorcycles are also very easy to customize as you can make slight changes that can immediately make your motorcycles pop and stand out in a crowd easily. You can change the color of your seat; have it refurbished with a neon color or keep it classy by installing a leather seat. You can also easily change the color of your helmet or get a funky and unique number plate. These are all cost-effective changes that can be easily reversed as well.
And the most important benefits that you get by riding a motorcycle that is usually either ignored or a lot of people don't know about is that people who ride motorcycles have better posture and balance since these two things are the most important elements when it comes to riding a motorcycle efficiently. Steering the motorcycle and always staying focused on what you're doing and where you are driving not only works on abdomen muscles and core strength but also is an excellent exercise for mental activity.
Research shows that people who ride motorcycles have stronger leg muscles and leg bones so they rarely develop knee problems. Motorcycle riders also have insulin sensitivity so they have balanced sugar levels in their blood as well.
Having stated all these advantages of riding a motorcycle there are some very serious disadvantages of owning a motorcycle as well; for example, the biggest hindrance that motorcycle owners have to face is the lack of storage space available in a motorcycle. Not only is it difficult to store your personal belongings on a motorcycle but it also becomes very difficult to keep emergency equipment as well unless you install a proper motorcycle saddlebag.
Furthermore, no more than two people can ride a motorcycle at one time; so either a motorcyclist will have to make rounds if they have to give a ride to people but they might even need to install extra seats on the motorcycle that can make it difficult to steer the motorcycle. In retrospect, it might be ideal to ride the motorcycle on your own but can be a huge inconvenience if you need to give a ride to more than two people because it is also a safety hazard then.
Riding a motorcycle also has many health hazards and a motorcyclist has to be extra careful about how, where, and when they are riding their motorcycle. A motorcyclist should always carry a First Aid kit, few antibiotic pills, and waterproof clothing, in his motorcycle luggage, just to be prepared for whatever the roads throw at you.
Can catch a cold
If you are not careful about riding a motorcycle during the winters then you are more likely to catch the flu, an infection, or the cold as compared to those who have the privilege of driving in a car with closed windows and an installed heater. You need to take many precautions to avoid getting seriously infected during the winters.
Get heatstroke
Similarly, it is very difficult to ride a motorcycle during scorching summer days because it can be extremely dangerous to ride a motorcycle if the sun is too bright. It can be a simple complication of getting distracted by the sunlight to a serious complication of getting a heat stroke especially if you are not wearing the right gear and if you aren't extra careful.
Slip in the rain
Not only can pouring rain make it difficult for the driver to see the roads clearly but the chances that you might slip during the journey are also very high. Often motorcyclists are suggested that as a beginner they should first practice and take trials of driving short distances during pouring rain so they can get a proper hold of the vehicle before taking out the motorcycle for a proper drive.
A simple accident can become very serious
Since you are not protected by four walls on a motorcycle a simple accident or a simple slip can become quite serious as the driver can come in direct contact with the road and the impact would be much harsher as compared to if you were in an accident sitting in a car.
Traveling amongst bigger vehicle
Car owners do not think too much about it but driving in a small vehicle amongst big vehicles can be quite a task and it requires a lot of practice and skill to make your way through huge busses and trucks.
However, recognizing these hazards allow us to be able to take proper precautions as well that can ensure our safety:
Aware of the weather forecast
It is recommended that especially if you are a beginner at driving motorcycles then you should always check the weather forecast before leaving your house because that will be able to prepare you for the journey ahead. Knowing what to expect on your way from one location to another will allow you to take the proper precautions and also allow you to carry the necessary equipment and spare material in case of an emergency.
Wear proper gear according to the weather
Never underestimate the cold or the heat rays of the sun and always wear the most motorcycle-appropriate clothing articles that are necessary to survive that particular weather. For example, if it's too cold then definitely invest in good heating gloves, warm jackets, and a self-heating helmet that will keep you warm and cozy.
We also suggest wearing proper motorcycle leather jackets and leather pants over your normal clothes because these clothing articles because of their material are very easy to clean and maintain. Also, these will protect your regular clothes very effectively as well.
Wear neon items
Adding a clothing item or wearing a neon color helmet will also help protect you during nights and foggy nights as other drivers will be able to easily spot you. It is very common for car and truck drivers to not notice a motorcycle because of how small the vehicle is, wearing something that can easily be spotted can help you prevent big unwanted accidents.
Keep spare equipment
When you know the kind of terrain and route you will be traveling on and especially what kind of weather you are expecting then it can become quite easy to determine what kind of safety equipment and tools you should be carrying. We suggest without a doubt that the following should be part of your emergency kit at all times: