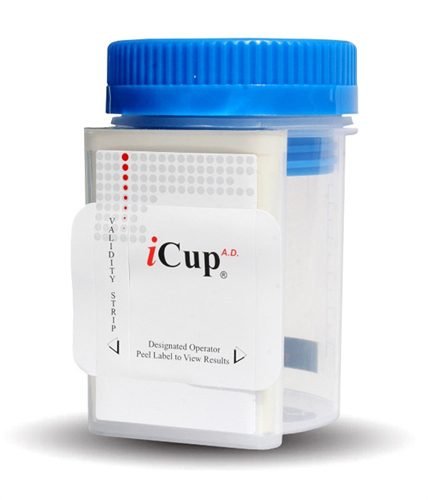 Last Updated on November 24, 2022 by
iCupdrug testis different from the panel drug testing cups as they are customizable and can test for many numbers of drugs. Most of the iCups are FDA approved and SAMHSA cleared and waived. So, they are safe for the employer to use during any kind of drug test. This blog is determined to explain about the icup and how to interpret the results in the icup drug testing kit.
What is an iCup Drug Test?
An iCup is an all-in-one integrated and instant urine drug test kit that provides accurate and immediate results for any number of drugs. It is completely customizable and hence the employer can modify the number of drugs as per their requirement. It can screen upto 15 classes of drugs and provide instant results. The iCup from a trusted drug kit store would have an inbuilt temperature and adulteration strip to reduce the chances of adulteration or invalidation of the test.
How to use the iCup Drug Test?
First of all, you need to unscrew the lid and collect the urine sample of at least 30 mL. The sample range should be between 30mL to 100mL to get accurate results. The entire kit should be at room temperature before opening it. Make sure that you use the kit as soon as you open it from the pouch.
Read more: 5 Ways Global B2B due diligence surveys help companies in the decision making process
Once you collect the sample, tighten the lid and keep it on the table and wait for 5 minutes to read the results. You can peel off the label to read the results. The tester may enter the details of the candidates on the top of the lid to avoid mix-up.
How to interpret the iCup drug test results?
Once you collect the urine sample, check the self-adhesive temperature strip within 3 to 4 minutes to ensure that the sample has ample temperature to be tested.
The temperature of the sample should be in the range of 90 to 100 degree Fahrenheit.
The red line in the Control region (C) ensures that the kit is working properly.
The red line in the Testing region (T) means that the sample is negative for the corresponding drug.
No line in the testing region will appear if you test positive for the drug.
You cannot see a line even in the control region if the test is invalid.
The intensity of the color of the line does not play a role in the iCup drug test.
Final words
iCupDrug Test is the best choice for pre-employment drug test and random drug testing as it can be used for drug tests in industries like construction sites, manufacturers, distributors, sport organizations, schools, colleges, and clinical settings.