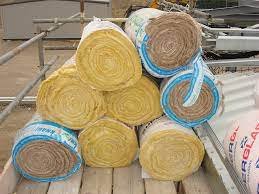 Last Updated on March 12, 2023 by
At least half of our home energy usage is credited to our heating usage. If you're a homeowner, this isn't anything new, as you already know how detrimental the energy bill can be to your budget.
Home insulation is one of the best tools to spend less on utility bills, as it has a ton of benefits that make your home more energy-efficient and comfortable. Having your home insulated is an investment that will save you a lot of money in the long run and will also make your home more valuable if you ever decide to sell.
There are four main types of insulations that homeowners opt for: Loose-Fill & Blown-In, Batt & Roll, Reflective Insulation & Radiant Barriers, and Spray Foam & Foam-In-Place.
In this article, we'll take a look at the pros of cons of each type of insulation with the aim of helping you make an informed decision on what type you should use.
Loose-Fill & Blown-In Insulation
Loose-Fill & Blown-In Insulations are typically made from recycled materials like cellulose (recycled paper), fiberglass (recycled glass), and rockwool (post-industrial materials). This type of insulation is an excellent choice for homeowners that want to insulate tiny cracks and crevices. This includes hard-to-reach places like new wall cavities, exiting walls, and your attic.
The advantages of using this type of insulation include it settling around the obstructions found in walls and attics, it's relatively inexpensive, it can be added to already finished walls, and it protects from insects and vermin.
The drawbacks are that it can settle over time and form thermal bridges that allow air to enter the house, and it can take a long time to dry out if moisture gets into certain areas.
Batt & Roll Insulation
Also known as blanket insulation, batt & roll is insulation made from pre-cut sections of fiberglass, rockwool, and flexible fibers that are laid flat and fitted between studs, joists, and beams. This is a relatively inexpensive type of insulation option that is best for foundation walls, unfinished walls, floors, and ceilings.
The benefits of this type of insulation include it being easy to unroll inside joists, moist resistance, and it being noncombustible.
The drawbacks include the fact that improper installation can drastically reduce performance, that it is less energy efficient than other insulations, and that it consumes a lot of energy to manufacture.
Reflective Insulation & Radiant Barriers
Reflective insulation is made to reflect heat from the sun instead of absorbing it. It's typically made from foil-faced kraft paper, plastic film, polyethylene bubbles, or cardboard. This insulation is typically installed in attics, as it's great for reducing radiant heat transferred from your roof to your indoor surfaces. Radiant barriers are the most cost-effective option in places with hotter weather.
Its pros include the ability to eliminate radiant heat, being the best choice for hot climates, mold resistance, and not degrading over time.
The cons include it being ineffective in colder climates, it not tackling conductive heat gain, and proneness to dust and dirt buildup.
Spray Foam & Foam-In-Place Insulation
Spray foam insulation is one of the most common and effective forms of home insulation available. It creates a multi-layer barrier that blocks outside air and noise from transmitting into your home. This material is perfect for new construction walls that have electrical and plumbing obstructions. It can even form around existing insulation.
Spray foam has the same benefits whether it's injected, sprayed, or poured into existing walls. It has a number of advantages, including the ability to adhere to the surfaces on which it is sprayed, the resistance to mold and mildew buildup, the ability to stay in one place for an extended period of time, and a higher R-value than other insulations.
It has two main disadvantages – it's one of the most expensive types of insulation, as it's considered a premium product, and it can be ineffective if not applied properly.
Save Money with The Right Type of Insulation
Insulating your home is an excellent way to save money, make your home more comfortable, and lessen your carbon footprint.
If you're still struggling with choosing a type of insulation, you can contact a professional for help. YourHomeFix is one of the best companies for getting in touch with professionals – they will find the best contractors in your area and schedule a free consultation with them.
Read also: What Are the Different Types of Home Insulation That Are Used Today?