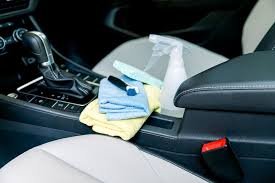 Last Updated on September 7, 2022 by husnain
Car owners undoubtedly love their vehicles, and they want to do their best to keep them looking shiny and new, on top of running as smoothly as possible. However, even the most careful of drivers and passengers aren't immune from everyday life messes, such as spilling a drink, having leaky groceries tip over or loading in dogs with dirty paws all over the cloth-covered car seats. To prevent such agonizing moments from occurring in the future, why not improve the interior of your ride with high-quality, stylish seat covers? There are plenty of choices to spruce up the look and feel of your interior space while protecting your seats from mishaps at the same time, giving you multiple reasons to invest in some today.
Protect Your Seats
Regardless of whether you've owned and operated your vehicle for one year or ten years, choosing to protect your car seats from further damage is always the right answer. After all, you want to not only protect your seats from unsightly stains for the sheer look of your interior, but you also want your seats to be as comfortable as possible for both you and your passengers. Just as you would want to safeguard your belongings in the back of a truck by shopping for durable tonneau covers, so too do you want to leave protective, comfortable material inside your vehicle for your friends and family to enjoy during daily outings or on future road trips.
Customize Your Interior
Whether you prefer basic options for seat covers simply to get the job done or you want to use the need for them as a reason to enhance the interior of your car or truck, there is a wide assortment of affordable materials to choose from for style and function. Choices like neoprene or leather often give the best custom fit for a snug look with clean lines that can look designed for the car itself. Meanwhile, these also have slick surfaces that wick away liquids and are easily washable to prevent staining altogether. These are ideal for people who want to be able to function inside of their vehicles without stress, while also still getting to enjoy the look and comfort of the materials themselves.
There are also canvas materials that are often less likely to fit as cleanly across your seats. However, they are highly durable, making them perfect for anyone who needs protection from more active, outdoor lifestyles where carrying muddy gear, loading greasy equipment or protection from the elements becomes more of a regular and pressing issue. No matter what you choose, upgrading the interior of your ride can easily be for both style and function, once you pick the right material and a dependable brand to rely on.
Choose Your Ideal Seat Covers Today
Hoping to order up some effective and stylish seat covers as soon as possible? Check out the premium selection available for affordable prices. Need help with more upgrades? Consider the helpful buying guides available as well, such as the buying guide – Dodge Charger upgrades for a variety of superior, brand-name products for your Dodge Charger model.
Read More: Do You Know What the Wheel Bearing Replacement Cost is?