Last Updated on February 21, 2023 by ahmadaftab
Main thumbnail
As the year comes to a close, many of us are looking forward to ringing in the new year with family and friends. If you're planning on hosting a year-end home party, then look no further than JINRO for your celebratory drink needs. The year is coming to an end. Do you have a party planned for this coming holiday season? Maybe a spontaneous home party for a family reunion or a get together with a small group of friends? It's no fun that a party isn't a party unless you celebrate with JINRO soju! JINRO soju plays the perfect role for the perfect go-to drink for this coming year-end party.
Celebrate with JINRO soju always brings the perfect party because it is easy to drink, and there's many ways you can enjoy drinking JINRO soju. Here are 5 simple ways that we can drink with JINRO soju which you can easily get it anywhere to enjoy a fun and exciting year-end party with friends and families. JINRO is a world-renowned Korean soju brand that has been crafting high-quality spirits for over a century. JINRO has become a popular choice for many partygoers and cocktail enthusiasts worldwide. JINRO's flagship product, the Classic, is known for its smooth taste and versatility, making it a great choice for mixing into cocktails or enjoying straight.
1. JINRO soju straight
JINRO soju is often serve cold and neat for the best flavor. Chill the bottle of JINRO soju in the refrigerator for a few hours if you are drinking at home party. Don't add ice to the drink because it is typically served as a small pour and taken as a shot in a soju glass. If you watch Korean dramas, then you often see soju drinks scenes drinking it straight and chilled pour from the bottle into a shot glass. This is the traditional way to drink JINRO soju.
2. JINRO soju with beer (Somaek)
Another way that Koreans drink with JINRO soju is with beer. This has got to be the easiest soju cocktail to make, simply because you only need 2 ingredients – JINRO soju and beer. JINRO soju with any beer is fine, but I would recommend a lighter beer as it blends of better with JINRO soju. Especially after a greasy meal, Somaek is definitely the best combination to drink, which cleanses the grease and oil from the mouth.
The recommended mix of ratio:
Fill up 30% of soju in the glass
Fill the glass with 70% beer of your choice
3. JINRO soju + Beer + Coca-Cola (KoJinGamRae)
"KoJinGamRae" is a term that means at the end of hard work, joy comes as a reward; in simpler terms, sweet after bitter, which is a combination of JINRO soju, any choice of beer and Coca-Cola. This is a very interesting twist to the original Somaek. The drink starts with a taste of beer and soju, but slowly kicks in with the refreshing sweetness of Coke at the end.
How to make KoJinGamRae?
Fill a shot glass with Coke and place this inside the beer glass.
Fill the second shot glass with JINRO soju and place this on top of the first shot glass to make a stack.
Fill the remaining empty space around the two shot glasses with beer until the glass is full.
Then down it! Do not be deceived of how light this drink taste due to the sweetness of coke, a few of these can get you knocked down pretty quickly! If you don't want to make it quite as alcoholic, you can always reduce the amount of JINRO soju in the shot glass.
4. Yogurt JINRO Soju
I'm sure you've all heard of this soju cocktail. Yakult is mainly known as a kid's drink, but Korea has put their own spin into it. Although it might sound crazy adding yogurt into soju, but it is really popular over Asia, and it's an easy-to-drink soju cocktail, best for this festive party with just three ingredients consisting of JINRO soju, Yakult and Sprite. This drink tastes citrussy, light and refreshing if you're looking for something much lower in content in alcohol.
This is what you need to make Yogurt JINRO soju
3 ounces of soju
3 ounces of yogurt drink (Yakult)
3 ounces of Sprite or 7Up
Please make sure that all the drinks are chilled before mixing it together, and you don't want to mix warm yogurt drink in JINRO soju.
5. JINRO soju + Red Bull (Energizer)
The last year-end JINRO drink for the day is "Energizer," which consists of JINRO soju and any energizer drink – but I prefer Red Bull.  If you are looking to have a fun long, energetic night out with your gang, this soju cocktail will definitely be the perfect party drink. All you need to do is go to the convenience store to buy a Red Bull, and that's pretty much it. This cocktail drink will sure give you the boost to stay up all night.
The recommended mix of ratio:
Fill up half of soju in the glass
Fill up half of Red Bull in the glass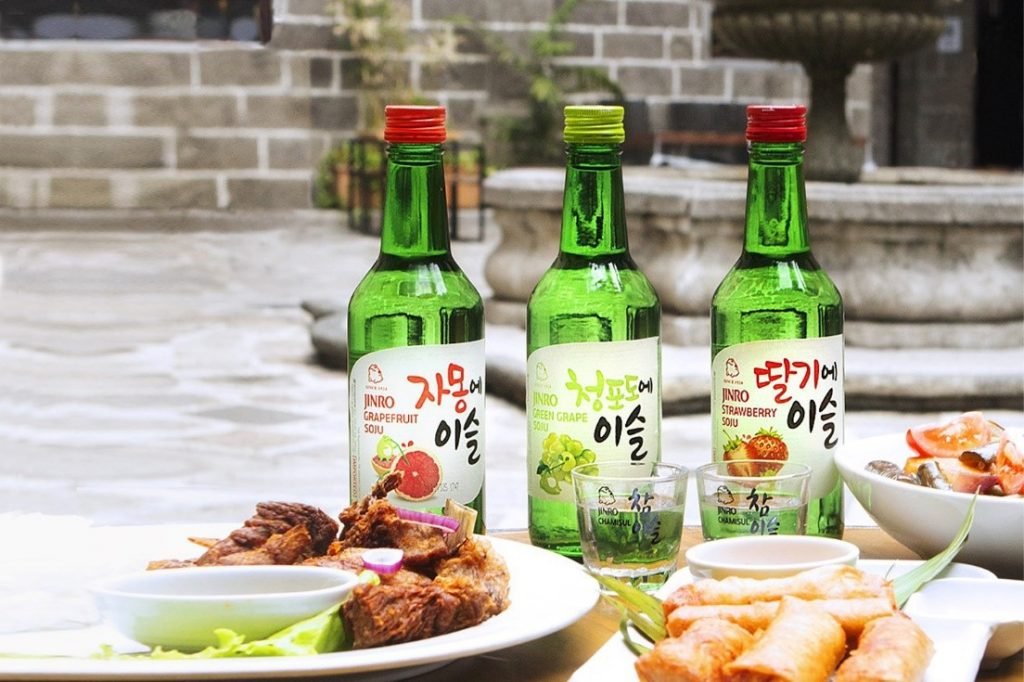 Once you've chose the perfect year-end party drink to spend the night, of course we can not miss out on some good Philippines food as well. If you're drinking JINRO soju straight, the most satisfying companion to delicate it is Beer Pares. Pares is similar to galbi-jim, a sweet-savory Korean dish made with stewed short ribs enjoyed during celebrations. Since JINRO soju and Korean Barbeque is the perfect bond, it only makes sense to have it with inihaw na liempo. If you like spicy pulutan like sisig, then Yogurt JINRO soju is the cocktail for you. The milky and sweet offsets the heats from chilies. Lastly, if you like something fizzy with fried food, the pairing of lechon kawali or chicharron with KoJinGamrae or Energizer would be the perfect match.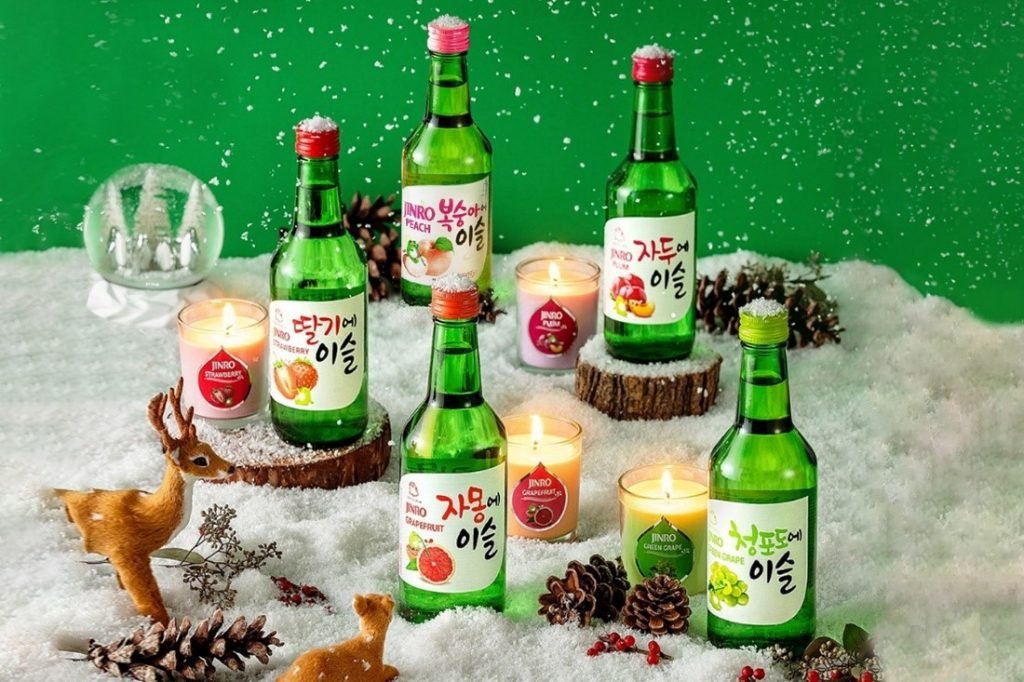 Well, if you're looking for something much simpler to celebrate this year-end party, you can always try the other flavors of JINRO soju which is simple, sweet, and refreshing. The other kind of fruit flavored JINRO soju can be found in Strawberry, Grapefruit, Green Grape, Plum and Peach. Enjoy this holiday season filled with love, joy and laughter with JINRO soju, the perfect year-end drink. Speaking of which, I shall make myself a Yogurt JINRO soju and enjoy some spicy pulutan for the night.
If you guys are interested, you can find the products by checking out this link below for more information: https://hitejinroph.com/
Apart from this, if you are interested to know about Best RV for Your Lifestyle then visit our Lifestyle category.