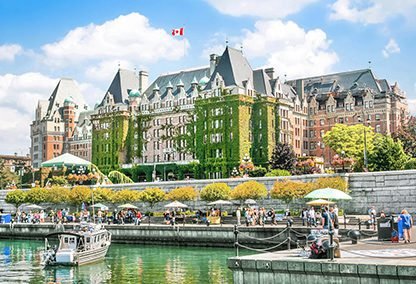 Last Updated on August 15, 2022 by
Victoria is the capital city of British Columbia with a population of 94,000. The city is buzzing with history, a rich culinary and coffee scene, arts and culture, and beautiful unique neighborhoods that offer something for everyone.
If you're planning on moving to or retiring in Victoria from a different part of the country or from overseas, try to get to know the city and its communities first. Take a trip to Victoria's many neighborhoods to see the housing market and also to see if the community suits you.
Here's everything you need to know about the great communities in Victoria, BC, and why you should consider moving there.
Oak Bay
Oak Bay is one of Victoria's most luxurious upscale communities. Situated on the eastmost side of Victoria, this affluent community has everything you need for quality living, leisure activities, fine dining, and beach fun.
Being surrounded by water from all sides, Oak Bay has a beautiful coastline with its popular Willow Beach where you can sunbathe, take long walks, and enjoy beautiful sunsets.
If you're moving to Victoria BC to take your lifestyle to the next level, consider hiring the experienced real estate agents at Ron Neal Real Estate to help you find the perfect home.
Vic West
Vic West is the epitome of small town living in a big city. Located on the west of downtown Victoria, Vic West is a small peninsula-like community with big opportunities.
You'll find a rich cultural, musical, and arts scene here, as well as shops, cafes, restaurants, and parks. There's transportation available to all other parts of Victoria and plenty of bike lanes for riding around town.
Fernwood
Fernwood is Victoria's hub for the arts, diverse culture, and boho vibes. No matter your age, all you need to enjoy Fernwood is a free spirit and an open mind. There are plenty of good spots to eat and drink, as well as parks, urban gardens, community orchards, and shops for your every need.
If you're into vintage items, antiques, and thrifting, you'll love Fernwood's many thrift shops and hip boutiques.
Fairfield
Looking for small-town living with big city amenities? Then Fairfield is the place for you! Situated south of Victoria's downtown, this vibrant community is great for retiring, starting over, or starting fresh, no matter your situation.
You'll find everything you need for your everyday life and if you ever want to attend a concert or go out on a date night, downtown Victoria is just minutes away.
Because of Victoria's moderate climate and access to the beach, you'll enjoy living in Fairfield year-round without needing to constantly escape to warmer destinations.
Read more: Fun Things to Do in Mogo: A Guide for Locals and Tourists Alike
Choose One of the Great Communities in Victoria, BC To Move To
Whether you're moving to Victoria from within Canada or from overseas, you'll find its many communities and neighborhoods are diverse, vibrant, and filled with opportunities.
Curious to learn even more about great communities to move to or retire to? Discover the best posts we've written on this topic and stay tuned for more of the latest trends and news.
Read More: 6 Amazing Ways Sales Tax is Beneficial for Small Businesses