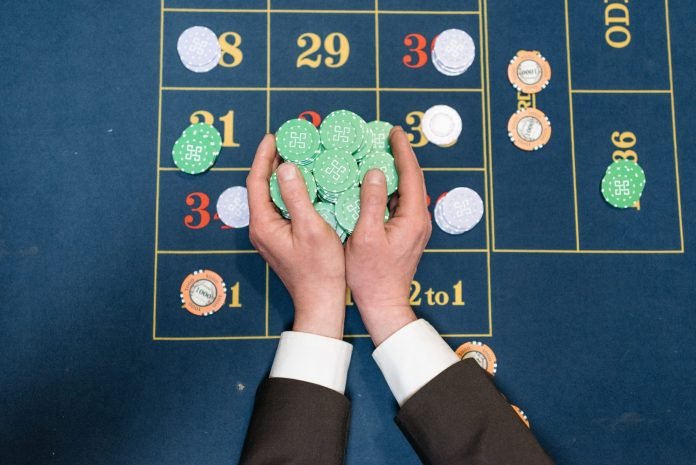 Last Updated on May 23, 2023 by asifa
If you're looking for free WSOP chips, you've come to the right place. In this article, we'll show you just how and where to find them.
You can also sign-up for an account on GGPoker, the world's largest poker room, to stay updated on WSOP news and offerings.
Scoring World Series of Poker Free Chips
In the poker world, chips are your ticket to fun and success. Playing poker games and tournaments is still the simplest and most straightforward way to grow your chip stash. But if you know where to look, this vibrant gaming community can reward you with plenty of opportunities to win free chips. 
The World Series of Poker offers a variety of ways to score these freebies. Here are some of them.
1. By installing the WSOP app
You can get World Series of Poker free chips by downloading the WSOP app, which is free for iOS and Android devices. Receive as much as $1,000,000 worth of free chips when you install and create an account on the program. You can instantly use these free chips to buy into various games and tournaments on the app.
2. By logging into the WSOP app regularly
Once the WSOP app is installed on your device, make sure to log in regularly as WSOP doles out free chips every four hours. The amount of free chips you get depends on what club you're in, which is basically like your rank or status on the app.
There are six different clubs, and you can advance from one to the next by joining games. The higher your club, the more free chips you can earn every time you log in.
3. By inviting friends to the WSOP app
Recruiting members is another quick way to score WSOP free chips. You can invite them via prompts in the app, and when someone accepts your invitation and installs the program on their own device, it instantly deposits free chips into your account.
The number of free chips you can win depends on your club. As your rank on the app progresses, you can score extra free chips for every new player you successfully recruit.
4. Through WSOP Special Promo Codes
WSOP regularly holds special promotions with codes you can redeem for WSOP free chips. These codes can give you different chip amounts depending on the promotion on offer. Redeeming them is typically quite simple. Just follow the prompts, enter the code, and wait for the freebies in your account.
The official WSOP Facebook page is an excellent place to hunt for these special codes since it's regularly updated with the series' news and promotions. You can also sign up for GGPoker to get all the latest from the WSOP.
5. By completing Daily Missions on the WSOP app
Here's another reason to log into your WSOP app regularly: Daily Missions. These are unique challenges that you can complete to get free WSOP chips. They usually involve playing a certain number of hands, winning a certain amount of money, or reaching a particular milestone.
You can check in daily and complete these challenges to increase your free chips.

Unsplash
6. Through the WSOP app's Mega Bonus Games
Watch out for Mega Bonus Games, which will appear on the app occasionally. You can usually access these unique mini-games via a red button that says "Mega Bonus" on the program's homepage. This will take you to mini-events, like a Mega Bonus Wheel, which you can spin for a chance to win free chips.
Read more: What is the updated version of the Blazblue central fiction tier list as of the year 2022?
7. By sending and receiving gifts on the WSOP app
Another reason to grow your club on the WSOP app is the Bonus Exchange. This feature lets you earn free chips every time a friend sends you a gift on the platform. The number of chips you receive will depend on your rank or status.
Members can send gifts daily, so you can maximize this benefit by cultivating a habit of sending gifts to your peers every time you check-in. Hopefully, they'll return the favor, and everyone can enjoy a daily influx of bonuses.
Read more: Are You All Excited To Know About All The Secret Places In Brookhaven?
8. Through the Poker Recall Game on the WSOP app
Poker Recall is a mini-game that lets you select five from a total of 20 cards to win free WSOP chips based on the poker hand you end up with. The only catch is you'll need to collect the cards for this game through missions and other activities on the app. It'll take a bit of time and effort, but look at it this way: Besides earning a chance to win free WSOP chips, you'll get to practice poker and boost your app activity.

Pexels
These are just some ways you can score free WSOP chips. You just need to know where to look and always keep an eye out for opportunities to win them!
You can also sign up for a GGPoker account so you don't miss any WSOP news or promotions. Visit their site to register today!
Read more: Why is Chippies famous for the best banana chips?
Apart from that, if you are interested to know about Poker Tournament Advice from an Expert then visit our Gaming category.