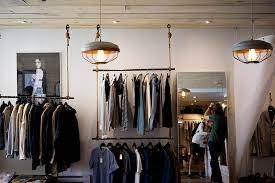 Last Updated on November 21, 2022 by
Looking for some inspiration from the rugged countryside? Thinking about switching up your wardrobe with some iconic western pieces? While the Wild West is home to many things, one of the most identifiable trademarks is the style of clothing worn by its settlers.
This unique form of fashion has been popularised in countless movies and TV shows, and it continues to remain a timeless look. If you're looking to add a little bit of cowpoke style to your wardrobe, then you should definitely check out the latest Wrangler clothing online.
What Makes Wrangler Clothing Good?
Plenty of clothing brands have tried to imitate the look of classic western wear, but few have been able to perfectly capture its style and quality in the way that Wrangler has. For over 70 years, Wrangler has been outfitting the western world in trendy clothes that are built to last.
Their pieces are designed to not only look good but also to be comfortable and functional, whether you're riding a horse or just heading out for a night on the town. Each stitch and detail on a Wrangler piece is carefully woven together and every centimetre of their fabric is tested for strength, so you can be confident that their clothes will stand up to anything you throw at them.
What Can You Get at Wrangler Clothing?
The brand's clothing range includes all the classic country staples that we know and love. They're designed for both men and women, and they offer a wide variety of pieces so that you can put together the perfect western-inspired outfit.
Denim Jeans
One of the most iconic pieces of clothing in the world, denim jeans are super versatile and can be styled in many ways. These days, you'll find a wide range of jeans in different washes, fits, and styles.
Source: martinvalen.com
Whether you're looking for the original slim fit for a more traditional look or want to try a new style like the bootcut or wide-leg jeans, you'll have no shortage of options at Wrangler. Some of their jeans even come with special features like water repellent or thermal fabric, so you can stay comfy no matter the weather.
Plaid Shirts
These kinds of shirts have slowly but surely slithered their way into the modern fashion scene, and there's no sign of them going anywhere anytime soon. Their vintage look and patterned design make them the perfect addition to any country-inspired outfit.
At Wrangler, you'll find a wide selection of both long and short-sleeved plaid shirts in different colours and styles. Whether you want a more muted and relaxed look with monochromatic shirts or want to go for a brighter and bolder style with multiple hues, there's definitely a shirt that will fit your taste.
Hoodies
There's nothing cosier than a good hoodie, and given the upcoming winter season, you're probably going to want to stock up on a few of these. Luckily, Wrangler's selection is extremely diverse and includes both pullovers and zip-up hoodies in a number of styles.
While pullovers are great for a laid-back look, zip-ups are perfect for when you need an extra layer but don't want the hassle of having to take off your whole shirt. You can just unzip the hoodie and voila, you're good to go.
Branded T-Shirts
T-shirts are an inherent part of anyone's wardrobe. They're great for layering or wearing on their own, and they come in handy in a variety of situations.
Source: 965degrees.com
Wrangler's branded T-shirts are some of the most stylish and well-made ones that you'll find on the market. They're available in both short and long-sleeved styles, with both vibrant and more subdued colours to choose from.
Vests
A classic piece of country clothing, vests are a great way to add an extra layer of warmth to your outfit without compromising on style. They usually come with either a button-up or zipper closure and often have pockets for you to store your belongings.
Vests also tend to be fairly form-fitting, so they're the perfect way to show off your physique without looking like you're trying too hard. You can easily combine them with plaid shirts, jeans, and even hoodies for a rugged yet contemporary look.
Jackets
When the temperature starts to drop, you should have a good jacket to keep you warm. The brand's jackets are created with both function and fashion in mind, so you can be sure that you'll look great while also staying snug as a bug.
Their selection includes both denim and leather jackets, in an assortment of fits and styles. If you want something that you can wear both on and off the ranch, then one of Wrangler's jackets is definitely a good option.
Additional Western Accessories
Once you've got your clothing sorted, it's time to accessorise. No outfit is truly complete without these little details, which is why you should pay special attention to them when browsing through Wrangler clothing online.
Hats
Cowboy hats have long been associated with the country lifestyle, and there's no denying the fact that they look great. The classic cutter style is perfect for a more traditional look, while the gambler hat is great for those who want a more unique spin on their outfit.
Source: horseyhooves.com
While cowboy hats are definitely the brand's bread and butter, they also offer a variety of other hat styles, such as ball caps and beanies. These are more subtle and can easily fit into today's modern style.
Belts
For a long time, belts were associated with functionality rather than fashion. Their original purpose was to hold up cowboys' pants as well as show off some of their tools, but these days, they're mostly worn for aesthetics.
Wrangler's belts are available in both leather and fabric options, so you can choose the one that best fits your style. Leather models tend to be more classic and formal, while fabric ones are perfect for a more relaxed look. The buckle itself can be either Western-themed or more simple and understated. Either way, it's a great focal point for your outfit.