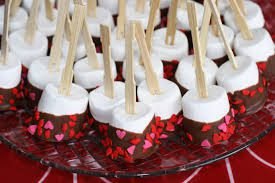 Last Updated on March 12, 2023 by asifa
Food is something that binds us together as a species. So, it's no wonder it's such a prominent part of Valentine's Day. Food can be used as a gateway into another human's heart. You can get creative and use food to surprise your partner with these fun food-related ideas on the special occasion:
1. Breakfast in Bed
An oldie but goodie. Breakfast in bed is a classic way of using food to say "I love you". Who doesn't want to be greeted by a hot, delicious plate of breakfast in the morning?
If you want to stay on theme, make sure to decorate the plate with lots of reds. Fruits are a staple of the standard Valentine's Day breakfast for this reason. Cut up some strawberries and watermelons to decorate the plate. The extra effort will go a long way!
2. Play a Game with Sweets
You can use small sweets to play a game with your partner. Have a trail of chocolates that leads to an even bigger present. Use candies instead of chips as you play poker together. Whatever game you choose, you can involve candy in it to add an extra layer of sweetness to the fun.
3. Stock the Fridge
If you don't live with your partner, you can show them you care by doing their grocery shopping and making sure their fridge is stocked up. It's a nice gesture and it may relieve them from having to go to the supermarket later on. They can spend more time with you instead!
If you do live with them, fill the fridge with their favorite snacks. You can order imported snacks and leave them there to your partner to find slowly.
Read more: 7 Tips To Get The Best From Coupon Codes
4.     Cook Togethe
Instead of surprising them with a dinner outing, make something together. Cooking with another person is a fun team exercise where you're both engaged and focused on the task at hand.
You can teach each other how to make traditional dishes from each other's culture or childhood. It's a good way to get to know each other better and make good memories while in the comfort of your home.
Read more: 10 Types of Coffee Beans You Don't Want to Miss!
5. Have Food Delivered to Them
You can order food and have it delivered to their school place of work, or home. You can do this easily with a food delivery app like Grubhub. If you have a Grubhub promo code, you can save a lot of money on the delivery fee.
Check for any Valentine's Day holiday sales. Sign up for Grubhub loyalty programs so you can get exclusive deals and coupon codes. This way, you can save big on food for every special occasion.
For more information on how you can get a coupon or discount, you can contact Grubhub directly on Facebook or Twitter.
Read More: Best Of 4 Ways That You Need To Know To Start Your Diet