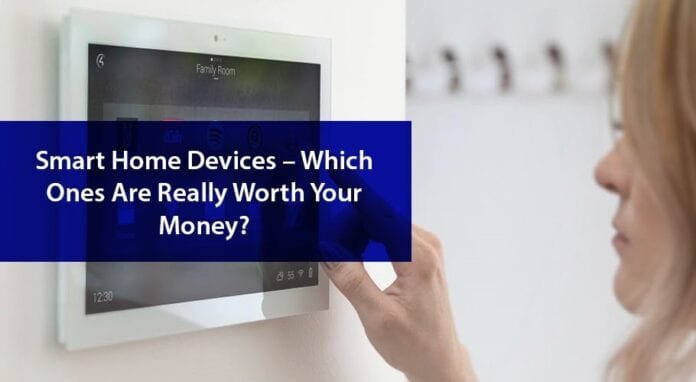 Last Updated on May 2, 2023 by asifa
Home automation lets you remotely control the lighting of your house, feed your pet or mop the floor. It has advanced from button controlled systems to voice-controlled robots and facial recognition security systems. All these tech advancements make us all want to be up-to-date and have our own homes equipped with these smart home devices. 
However, just because these devices are made with advanced tech and innovations doesn't mean they are also worth your money. You need to be very picky about these devices and only invest in ones that can actually get important things done around the house. Moreover, their functions, ease of use, durability, and brand reliability also make up to be important factors that you should take into consideration.
Must-Have Smart Home Devices
Smart home devices can be divided into many categories. We have reviewed smart home security devices, entertainment, kitchen, and cleaning and lighting devices. 
Home Security
Vivint Smart Home – Best DIY Security Device
A lot of the smart devices used in automated homes now allow you to install and set them up all by yourself without requiring any professional assistance. One of the best DIY home security devices is the Vivint Smart Home. This device provides you with a 24/7 home monitoring service and a subscription-based security service that alerts authorities if you smoke if it detects any burglary or anything of that sort.
The device comes in a tablet-like shape with a wide touchscreen panel that you can also control via your PC/Laptop smartphone device. The Vivint Starter kit costs $599 and has all the essential hardware, such as window and door sensors, motion sensors, Smart Hub, and a water sensor. You can further invest in Vivint's advanced smart home devices, such as security cameras, video doorbells, or the Vivint Doorbell Camera Pro.
You can also look for reliable companies that will set up security in your homes. Here are the best home security companies available in your area.
Kitchen and Cleaning Appliances
iRobot Braava Jet m6 – Best Robot Vacuum
Robot vacuum cleaners are one of the most common smart home devices being used these days. No one can deny how lazy we get for cleaning around the house. People with kids and pets have it even worse, which is why robot vacuums are so popular in the market today, since their role is so important for every household.
There are several models of robot vacuums by iRobot. The Braava Jet m6 model has impressed us the most with its latest unique features, like the Precision Jet Spray. This vacuum is ideal for hard floors but can also be used on wooden floors. Lithium-ion batteries allow this device to learn and adapt to your home's map and structure. It navigates through your home easily with the vSLAM navigation and uses the Smart Map feature to build a personalized layout of your home.
It is an ideal device for hands-free mopping on specific areas, such as cleaning spillages. You can also expect the robot vacuum to make personalized house cleaning schedules. Even though the iRobot Braava Jet m6 is pricy, we cannot overlook the edge it has over its counterparts with quiet functionality, compact size, precise operations, and Amazon Alexa compatibility.
Brava Oven – Best For All Types Of Cooking
You can opt for smart cooking devices that perform only a particular type of cooking, such as baking, or searing. But this Brava Oven is an all-in-one package that sits on your kitchen countertop and gets a majority of your cooking done. It can bake, defrost, toast, and sear food. Its most notable and unique feature is the camera installed inside the unit. This allows you to monitor and look at your meals being cooked without opening the lid.
The Brava Oven also has multiple cooking settings that come pre-installed, so it is great for instant cooking as well. It has a touch control panel, and you can also control it via your smartphone. By using infrared technology, this smart oven can significantly reduce cook time compared to conventional microwave ovens.
Entertainment
Roku Streaming Stick+ – Best For Streaming Apps
Many of us still use regular TV screens in our homes along with mobile and laptop screens for entertainment. If you wish to have a larger screen for all your streaming needs, then the Roku Streaming Stick+ makes up to be a great option.
This Roku stick connects to your regular TV via the HDMI slot and utilizes the built-in Wi-Fi and wireless connectivity to stream Netflix, HBO, Prime, and many more. The stick also lets you stream in 4k UHD quality without fail. However, for stable and consistent image quality, a good internet connection by AT&T Home internet services might be a good option to go for.
This Roku device comes with a remote control that lets you control channels and volume. It also has a voice search feature. It is known for its long-range wireless connection that does not let anything interfere with your night-time binge-watching sessions.
Smart Lighting
Philips Hue White and Color Ambiance Lightstrip – Best For Aesthetic Lighting
Philips lighting products and devices have been leading the market for decades now. The brand is known for its advanced lights that are readily available in all parts of the world. The company couldn't help but live up to its reputation and launch some smart lighting products. One of the several products manufactured by Philips is the Philips Hue Outdoor Lightstrip.
This flexible and bendy strip of LED lights is fully waterproof and weather resistant. As a result, it can be used in your car porch, lawns, back yards, as well as indoors. With a power rating of 120 watts and a warranty of 2 years, this smart light is the perfect addition to your smart home for that aesthetic effect. The light can be connected to and voice-controlled with your existing smart devices, such as Alexa and Google Assistant.
Overview
Smart home devices are becoming increasingly popular as homeowners seek to automate their homes for convenience, comfort, and security. However, with so many smart devices flooding the market, it can be overwhelming to know which ones are truly worth your investment. Here are some of the most popular and practical smart home devices that are worth your money:
Smart Thermostats: These devices can help you save energy and money by automatically adjusting your home's temperature based on your preferences and habits.
Smart Locks: These devices provide enhanced security by allowing you to lock and unlock your doors remotely, as well as monitor who enters and exits your home.
Smart Lighting: These devices allow you to control your home's lighting remotely, set schedules, and even adjust the colors and intensity of your lights.
Smart Speakers: These devices provide a voice-controlled hub for your smart home, allowing you to control all your devices using voice commands.
Smart Security Systems: These devices offer comprehensive home security solutions, including surveillance cameras, motion detectors, and alarms.
When considering which smart home devices are worth your investment, it's important to consider factors such as ease of use, compatibility with other devices, and the quality of the device's features. Additionally, it's essential to choose devices that fit your needs and lifestyle.
Conclusion
Equipping your house with smart devices means connecting all tasks and chores to an internet connection. Home automation has become extremely popular recently with the convenience and comfort it has to offer to us. With a stable home internet connection, you can have your smart home devices do wonders for you.
To conclude, we would suggest that you give a lot of thought to the purchases you make. These smart home devices are pricey and can cost you a lot if you make a poor choice and realize that the device is not as useful as you thought.
Read more: Easy Steps to Build a Wood-Fired Oven.
Apart from that, if you are interested to know about Discovering the Benefits of Mobile Apps then visit our Technology category.